Overview
Award Management functionality was implemented in the eResearch Proposal Management (eRPM) system in August, 2018. The goals of the new functionality are to:
Streamline the award management processes;
Create greater flexibility in the relationship between PAFs and Awards (AWDs);
Increase the visibility of award details and related items (e.g., individual funding commitments, compliance factors, required deliverables);
Provide consistent award data between eRPM and M-Pathways Financials; and
Enhance the "big picture" view of sponsored awards at the University of Michigan.
The implementation of the Award Management functionality means no more searching multiple PAFs to understand the complete award "story." All award information will be in one accessible Award record, giving PIs and Project Teams greater visibility into the award details and related compliance.
The Award Workspace will display, list, and/or link to many related aspects of an award, such as individual funding commitments, compliance factors, required deliverables, etc.
See the sections below for more details.
Changes to PAF
PAF Question 1.5
PAF Question 1.5 is changed to select an Award, rather than a Parent Project Grant Number (P/G).
Changed question text: 1.5 If Renewal/Continuation or Supplemental Request, enter an Award ID.
Changed help text: If this PAF is related to a previously awarded project, enter the Award ID number. If you don't know the Award ID use the PAF Query to find the correct Award ID. After selecting the Award ID, the related project grant number(s) (PGN IDs #) will be displayed.


To add an award, enter the award number (e.g., AWD000001), award title, PI last name, or Admin Home department and select the desired award from the list.
View All Award Notices
On the PAF Workspace under Manage Data, View All Award Notices is available to all project personnel with access to an Awarded PAF. View All Award Notices provides a reference to view historical Project Award Notices (PANs) and Project Award Changes (PACs). On the View All Award Notices page: click View to see a summary of the latest PAN or PAC, click the icon to open the current PAN/PAC as a PDF, or click the Notice number to see a history of all uploaded versions.
Since PANs and PACs are no longer sent, instead an email notification is sent when an Award or an Award Modification is activated. Email notifications are sent to all parties (UM Investigators, Administrative Personnel, Department Contacts) to inform them that the Award is Active.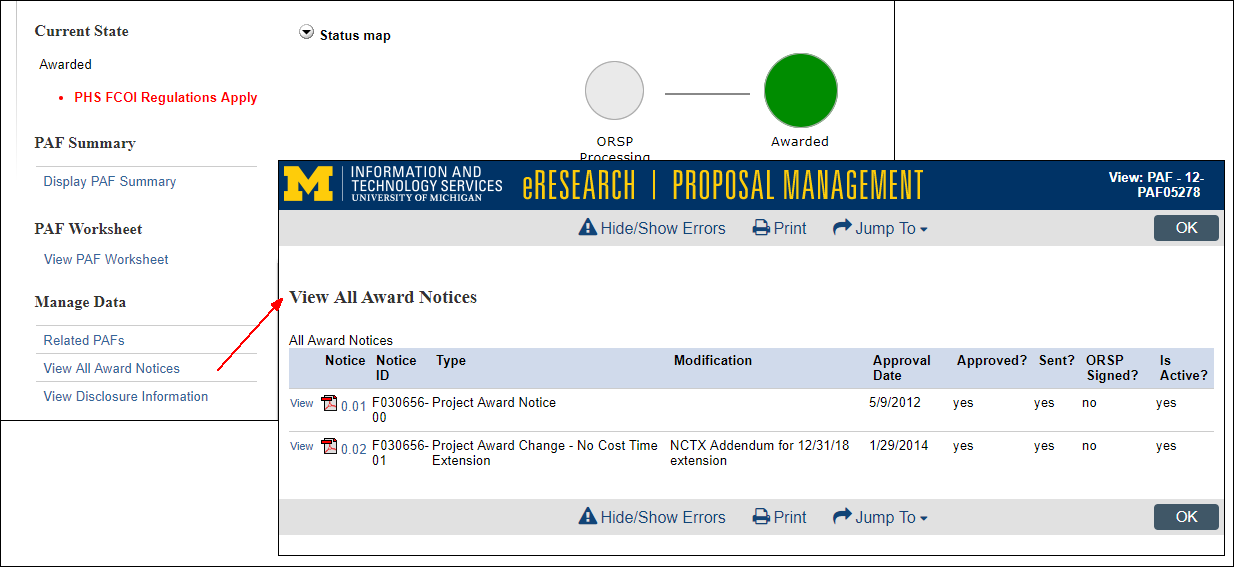 PAF and Award Workflow
The PAF workflow has changed and no longer includes Award processing states.
Once a PAF is funded, it will be available for reference only, and activities on the PAF will be limited to "Post a Comment."
Changes to PAF Workflow


Upon notice of award, ORSP will initiate the award process on the PAF.
PAF Workflow


An email notification informs PI & Primary Research Administrators that the award has arrived and that compliance actions are required prior to award activation. The PAF moves into a state of Processing Award. ORSP creates the new award record and data from the PAF is copied into the new award.
The Award has its own workflow including these states:
Initial Award Processing
Hold
Compliance Hold
Account Assignment
Contracts Processing (if applicable)
Financial Processing
Pending Activation
Active
Award Workflow


ORSP Project Representatives review the information on the award and places an Award on Hold if any of the following are required:
PEERRS Training
Regental Action Request (RAR)
Agreement Acceptance Review (AAR)
Human Subjects Application (HUM)* if human subjects are indicated
Animal Protocol (PRO)* if vertebrate animals are indicated
Institutional Biosafety Application (IBCA)* if applicable
Sponsor Dates
*ORSP will place the award on hold if a HUM, PRO, and IBCA is required and the PI/Project Team have not yet provided the related compliance application ID.


After Project Representative PR Sign-Off, eRPM places an Award on Compliance Hold if any of the following are outstanding:
Regental approval of statutory conflicts of interest
Compliance Training (PEERRS) completion
Institutional Review Board (IRB) approval
Institutional Animal Care and Use Committee (IACUC) approval
Institutional Biosafety Committee (BL-2 and higher) approval
Conflict of Interest Committee approval (PHS FCOI and/or PI/ORSP)
Export Control Review completion
Ancillary Reviews completion for Human Pluripotent Stem Cell Research Oversight (HPSCRO), and/or Radiation Policy Committee (RPC)
Other Support Review completion
Security Review completion
M-Inform Disclosure completion
Refer to Compliance Status and Holds for more details.
Award Workspace
Once an Award is created, it has its own project ID and workspace. The Award workspace is the home page for all information about a particular award. From the workspace you can view award details, view the current state of the award, track associated deliverables, and complete necessary activities on the award. See the Award Workspace Reference for more details.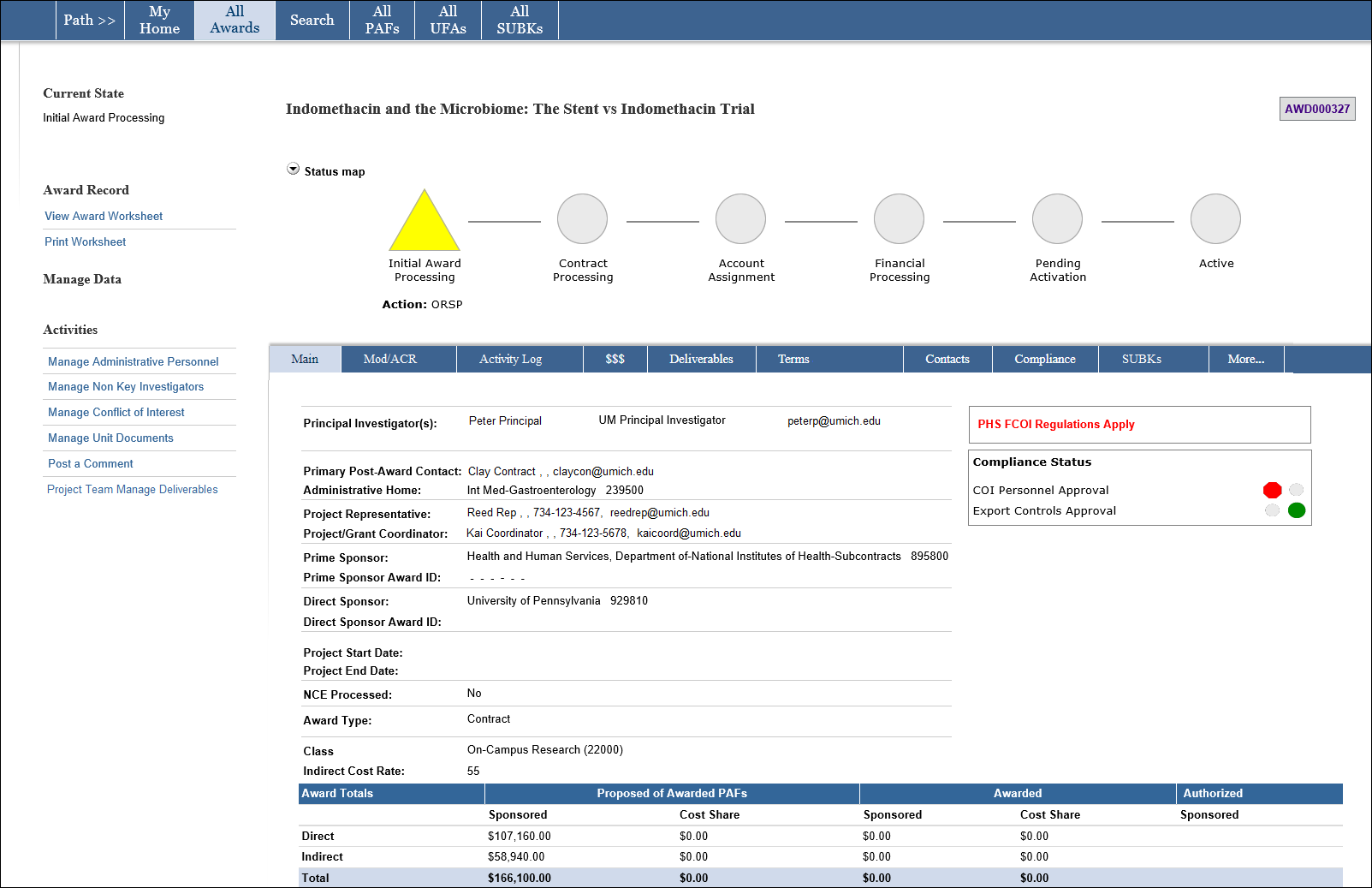 Activities
Depending on your role(s) and the state of the award, there are several activities that can be performed:
Manage Administrative Personnel (Add/Update)
Manage Non Key Investigators (Add/Update)
Manage Unit Documents
Post a Comment

Project Team Manage Deliverables
Once Active:
Request Action/Modification
For more details, refer to the step-by-steps for each activity.
Search
A tab for All Awards is available that lists all Created/Pending/Active Awards and Cancelled/Terminated/Closed Awards that you are associated with. The awards that display here depends on your role.
An Award ID has also been added to the Search tab and the PAF Query.
For more details, refer to the Search for Awards and PAF Query step-by-steps.
Tabs, Inboxes, and Project Listers
In addition to the All Awards page tab at the top, there are also Home workspace tabs and inboxes for awards. The tabs contain project listers for awards as outlined in the linked documents below.
Track Award Progress
An Award Status Map gives a visual representation of the award's progression though the workflow from initial award processing through award activation.
A Compliance Status meter shows compliance factors required prior to award activation and their approval/completion status.
Award Change Requests and Modifications
Award Change Requests (ACR) are completed by the PI/Project Team to request post-award changes or other ORSP action. The requests are reviewed by ORSP to make a determination if an award modification is required.
The signed PACR form can be uploaded in the Request Action/Modification activity if desired.

NOTE

As of 11/15/2021 the PACR PDF form has been replaced.
A new modification type is available: Mid-Project Advance Account.
For more details, refer to the Request Action/Modification step-by-step and the Award Modifications step-by-step.
Data Conversion
Conversion Approach
What was converted?
PAFs with Active P/Gs

Single PAF = New Award/Single P/G
Multiple PAFs with same P/G = New Award/Single P/G
(Includes PAFs that are expended but related to an active P/G)
Includes projects that are complete, but not yet Closed

A list of historical PANs and PACs will display on the Modifications tab of the Award record.

An award modification reference will be created for each historical PAN/PAC.

All modifications of a project will have a Modification ID in order of the PAN or PAC create date.
The name of the modification will be the PAF ID on which it was created followed by the PAN/PAC ID (e.g., 18-PAF012345-F055555-01).
The modification type will start with "Legacy" (e.g., Legacy - PAC Financial, Legacy - Administrative, etc.) to indicate that it is a converted record.
These records are intended for reference only and will not contain any content. The original PAN/PACs, including detailed content, can be found on their respective PAFs.
What was manually converted
No PAF but Active P/G in Fin (e.g., holding accounts)
Single PAFs and Multiple PAFs with Multiple Active P/Gs
What was NOT converted?
Closed Projects. PAFs will remain in the system in a Closed state.
Documents. No documents will be moved from the PAF to the Award record. Documents will remain on the PAF for historical reference.
Single Active P/G with Multiple PAFs = Single Award
Pulled from all related PAFS:
UM Investigators
Budget Period Dates & Dollars
Sum of Project Period Dollars
Max of Project End Date or NCE
Compliance Items

If any PAF has a "yes" (human subjects, animals, etc.); Award will have "yes"
Pulled from initial PAF:
Project Title, Long Title
Date awarded (Award Publishable Date)
Project Start Date
Pre-award Spending Auth Date
Pulled from most recent PAF:
Contact PI
Administrative Home
Primary Post-Award Contact
Project Representative
Pulled from most recent Project Award Change:
For any questions or issues with data conversion, please contact the ITS Service Center.
Last Updated:
Friday, February 24, 2023