Ann Arbor, Dearborn, and Nexus Canvas have Zoom set up that you can use in your course if you choose.
You may also refer to the U-M video walk-through of enabling Zoom in course navigation.
Click Settings in the left-hand navigation of your Canvas course.


Click the Navigation tab.


Find Zoom in the list of disabled apps. It is usually at the bottom.
Click on Zoom and drag it up to the place you'd like it to be in the navigation (under "Drag and drop items to reorder them in the course navigation.") You can also click the 3 dots on the side and select Enable. Either action will enable it.

You can rearrange where Zoom appears in the left navigation by clicking and dragging it or by clicking the 3 dots on the side and clicking Move.
Scroll to the bottom of the page and click Save.
To disable Zoom in the course navigation, follow steps 1-2 to Settings>Navigation and click the 3 dots on Zoom, then click "Disable."
Pictures/gifs used above are from Zoom Support article Configuring LTI with Canvas.
If you click on "Zoom" in the Course Navigation and see a Warning message, this is because you have not yet activated your U-M Zoom account. Anyone with a Teacher, TA, Designer, or Admin role in the Canvas course must first activate their Zoom account to use Zoom through Canvas.
This will automatically create your account. You should see something like this:

Return to the Canvas window and refresh the page.
Using Zoom in Canvas for the First Time as an Instructor: Authorization
The first time you use the Zoom app in Canvas, you may see a message like the picture below ("Zoom LTI Pro is requesting access to your account."). If so, click "Authorize." Zoom LTI Pro is the tool that connects U-M Canvas to U-M Zoom.​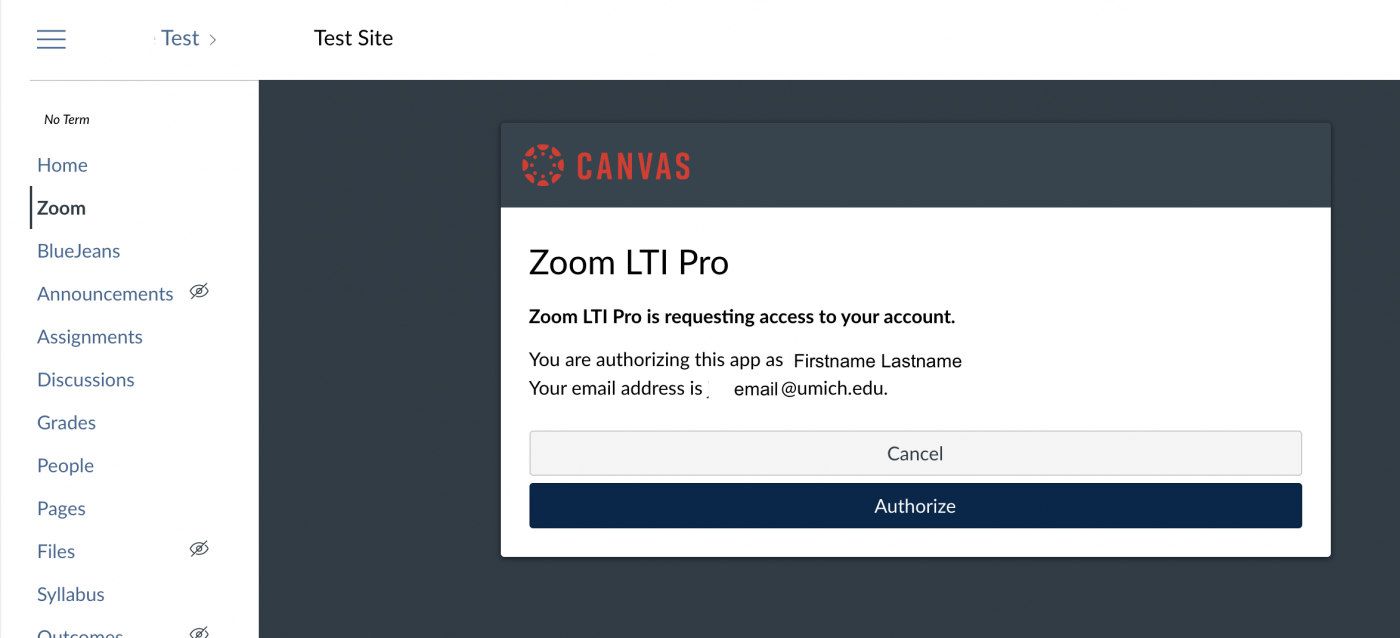 Last Updated:
Wednesday, April 28, 2021