Overview
This is the process for requesting a mail transfer to copy email from one @umich.edu account to another @umich.edu account. The destination account where mail will be transferred can be an individual user or a Google Shared Account. (Please note that the Shared Account must be requested and created before initiating a mail transfer.)
Note: The mail requested for transfer will not be removed from the source account. It is only copied to the target account.
Request a Mail Transfer
​Important: Before you submit a mail transfer request, please apply the desired Gmail labels to the emails you wish to have transferred/copied.
Make sure you are logged into your U-M Google account via a web browser.
Navigate to the Mail Transfer Request Form.
If this is your first time submitting a request to this form, you will be asked to review permissions and allow the Collaboration Services team to access your data in Gmail. Click Review permissions, and a new window will open with information regarding permissions. Click Allow to proceed.
Fill out the form with the desired information, including Desired Transfer Date and Destination Mailbox. Check the boxes next to the labels you wish to be transferred/copied to the target account or check Select All if you want all of your labels transferred. All special requests outside of the available fields should be put into the Additional instructions section.
Tip: You can create a parent label to easily organize transferred email when it is copied to the target account. This label can be requested via the Nest Labels Under… box. For example, you have a label named "UM-ITS" and you want its messages copied to a new label called "Smith / UM-ITS" for tracking of which labels have been copied to this target account. Furthermore, if you already have nested labels in your account, their hierarchy is retained even if you request an additional parent label for your labels via this form.
Caution: Your mailbox may contain personal or private data. Please review your label selections carefully. The form may have highlighted some of your labels in red that are either commonly used for storing personal data or which it thinks may be used for that purpose.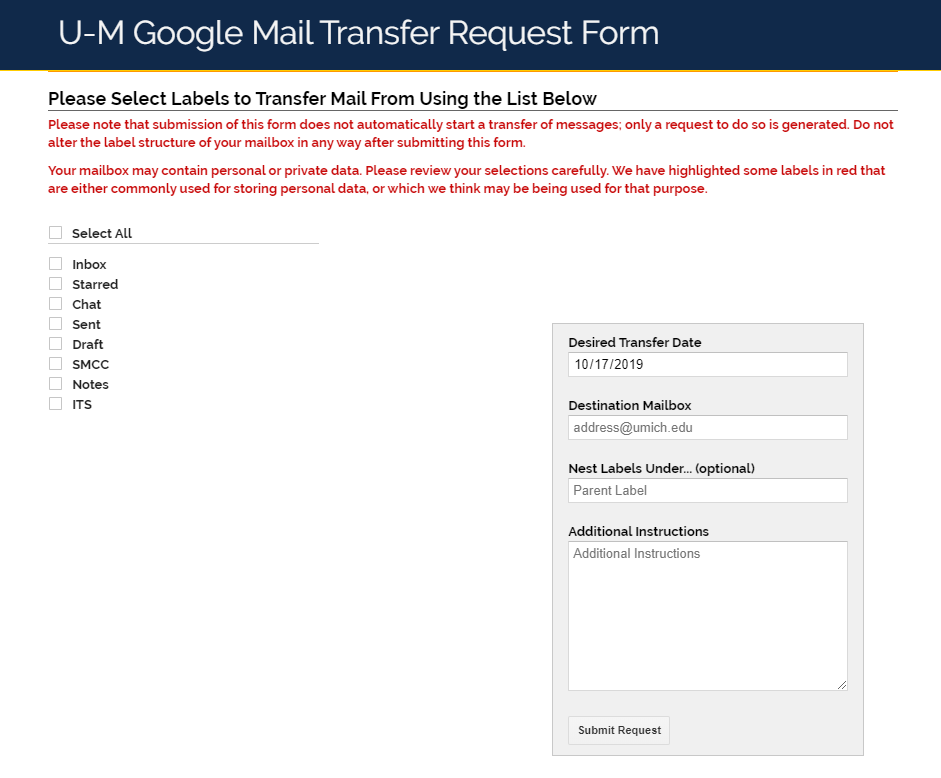 When you have completed the form, click Submit Request to generate a new ticket with the ITS Service Center. ITS will initiate the transfer and let you know when it has been completed.
​Important: Submission of this form does not automatically start the transfer of email. It only generates a service request ticket to do so.
Warning: Do not alter the label structure of your mailbox in any way after submitting this form.
Last Updated:
Tuesday, September 5, 2023