Overview
Your Home Workspace allows you to manage department information for your assigned departments.
Home Workspace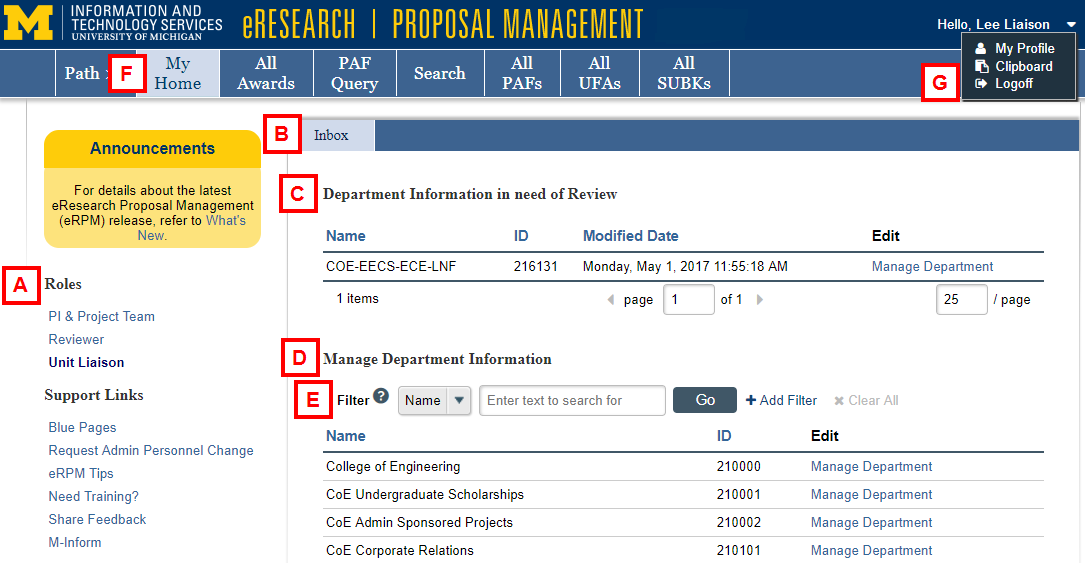 Letter
Description
A

Your available Roles

If you have multiple roles (e.g., Unit Liaison and Reviewer), click the role name to select that role. Your active role appears in bold.
The role selected determines what is displayed in your Home Workspace (e.g., tabs, listers, activities, etc.).

B
Inbox tab– Displays departments that have been assigned to you.
C

Department Information in need of Review – Lists any departments assigned to you that have had a status change (e.g., department inactivated, or department added).

Important If you need a department added, contact the eResearch Proposal Management team via email eRPM.contact@umich.edu.

Although new departments are automatically added to the Proposal Management system, new departments cannot be automatically added to the Unit Liaison. The Unit Liaison must work with the Proposal Management team to establish the appropriate department roll-up structure.

D
Manage Department Information – Lists all departments assigned to the Unit Liaison. Click Manage Department to display Reviewers, Reviewers Who can Sign, PAF, Award, UFA, Subcontract, and Agreement Acceptance Email Notification recipients for the department.
E
Filter – Allows you to search for departments by ID (number) or Name. Select Filter criteria, enter a keyword in the search field, and click Go.
F
My Home – Click to return to the first page of your Home Workspace from any workspace in the system.
G
Logoff – Click to exit eRPM.
Last Updated:
Friday, September 13, 2019