Overview
For several years, classic Google Hangouts had been a part of Google at U-M and integrated with Google Mail. Google Meet is an updated, videoconferencing experience that has replaced the video and voice calling features of classic Hangouts. This document outlines how to access and use Google Meet on the web, in Google Calendar, and in Gmail.
Important: Google Meet is a Google Workspace for Education Core service. It is free, covered under U-M's agreement with Google, and can be used for certain kinds of sensitive data. U-M Google and Google Meet are not HIPAA-compliant. If you are affiliated with Michigan Medicine, refer to the U-M HITS site for approved communications software.
Create a Meet on the web
If you need a quick answer from a team member, you can start an instant meeting in a web browser. If someone sends you a meeting link URL, click the link to join the call.
Note: You can send the meeting link to people outside U-M, but the host must either invite them to the meeting, turn on Quick Access in host controls, or accept their request to join.
Log in to Meet with your [email protected] email address and the U-M Weblogin page.
Click Join or start a meeting. If desired, enter a nickname for your meeting in the box. Otherwise, leave blank and click Continue.
Click Join now to enter the Meet session.
To add participants to a meeting, choose an option from the pop-up when entering the session: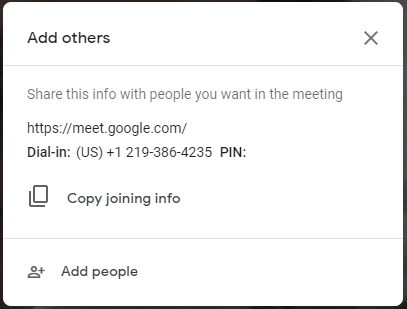 Click Copy joining info and paste the meeting details into an email or another app.
Click Add people and choose an option:
Important: There is a limit of 10 participants you can invite via meet.google.com. This can be bypassed by using a Google Calendar event to invite users to the Meet session. See "Schedule a Google Meet Session in Calendar" below for more information.
Under the Invite tab, enter an email address or select from the list of suggestions. When done, click Send email.


Note: A pre-defined email from Google is then sent to the invitees with instructions to join the video meeting.
Under the Call tab, enter a valid phone number and click the green circle phone icon to call the number.

Schedule a Meet in Calendar
Create a new event with a Google Meet session
When you create an event, you can click Add video conferencing to add a Meet session.
Note: Guests can forward the meeting link to other people. If someone tries to join who was not invited to the Calendar event, the host must accept their request or turn on Quick Access in the host controls.
Go to Google Calendar and create an event.
Under the Guests tab, click Add guests and enter the email addresses.
Under the Event Details tab, click Add video conferencing and select Google Meet.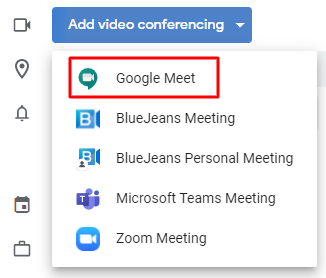 Click Save.
Click Send to send the invites.
Guests will receive an email with the event information and a link to the video meeting.
Copy an existing Google Meet session from one event to another
You can use the same Meet session details to schedule Calendar events.
In Google Calendar, open an event that has a Meet session scheduled.
Click the drop-down arrow next to Join with Google Meet.
Hover over Meeting ID and click the gray pencil icon (Edit) that appears. Paste or type Google Meet URL or meeting code of the existing session you want to add to this event.​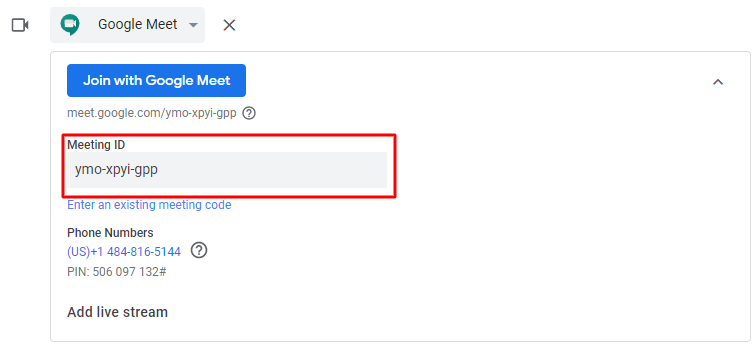 Note: You can only paste a Google Meet URL or meeting code (not a classic Hangouts video call link) from another Google Calendar event.
Click Save.
Create, Join, and View a Meet in Gmail
Google allows you to create, join, or view Google Meet sessions right from within your Gmail.
To create a Google Meet session:
Under Meet in the sidebar of your Gmail account, click New meeting.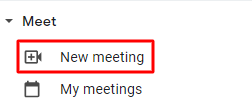 This will open a new window with the option to copy the meeting link, Send invite to participants, or Join now to join the meeting.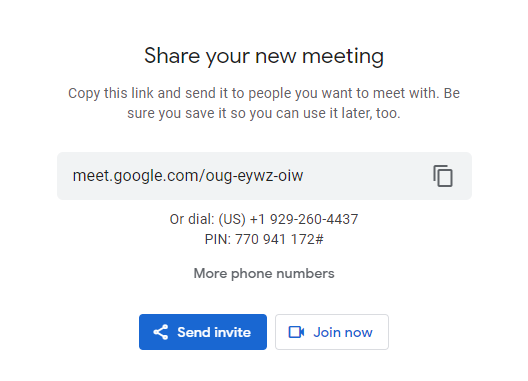 To join a Google Meet session:
Under Meet in the sidebar of your Gmail account, click My meetings.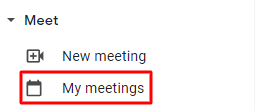 In the next section, you will see a list of your upcoming Google Meet sessions scheduled in your Google Calendar. Select the meeting you'd like to join and click either Join (when hovering) or Join now (in the top right corner of the meeting information). Alternatively, click Join a meeting, enter the meeting nickname or code provided by the host in the text field, and click Join.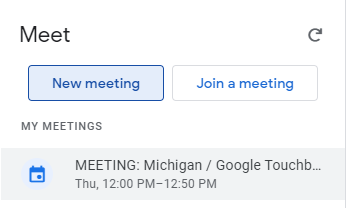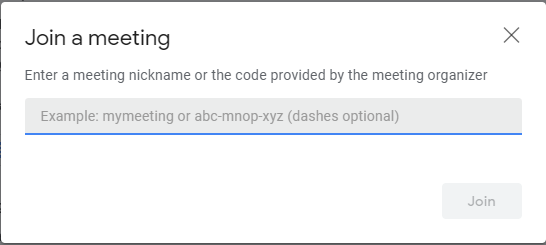 Last Updated:
Tuesday, December 14, 2021