Overview
COI Staff
Upon logging in to M-Inform, a series of tabs displays above the workspace allowing you to search for records, projects, reports and other information. Once a tab is clicked, a searchable list displays.
Note Some lists may contain additional tabs upon which you can search.
On the My Home tab, sub-tabs organize and list projects related to you and your office.
M-Inform

COI Staff Dashboard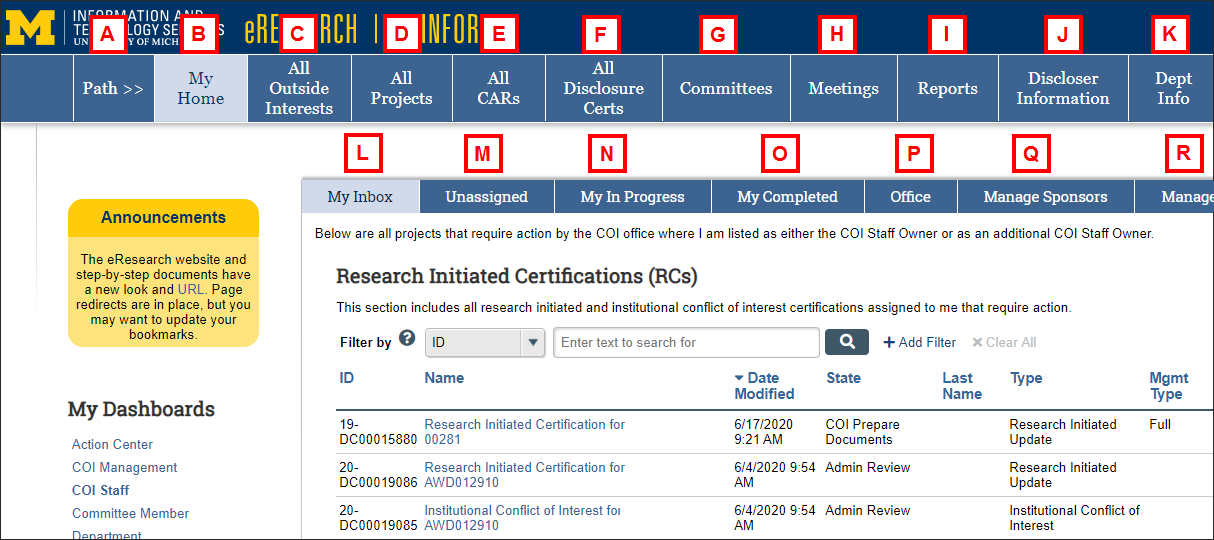 Information About Tabs
Letter
Tab
Description
A
Path >>
Click to display breadcrumb trail.
B
My Home
Click from any page to return to your home page.
C
All Outside Interests
Lists all Active and Inactive Outside Interests that have been disclosed.
D
All Projects
Lists all Projects and all Company Profiles entered in

M-Inform

.
E
All CARs
Lists all Conflict of Interest Administrative Records (CARs).
F
All Disclosure Certs
Lists all Disclosure Certifications and all Annual Reviews.
G
Committees
Lists all

U-M

Conflict of Interest Committees.
H
Meetings
Lists all Upcoming, Past and Cancelled committee Meetings.
I
Reports
Lists all available reports (e.g., Discloser Reports, Certification Reports, etc.).
J
Discloser Information
Lists basic information about all Disclosers and provides a link to each discloser's Total Picture outside interest disclosure summary.
K
Dept Info
Lists all active departments and provides a link to view Department Information about each.
L
My Inbox
Lists all projects that require action by the COI office where you are listed as either the COI Staff Owner or as an additional COI Staff Owner.
M
Unassigned
Lists all projects that have not been assigned a COI Staff Owner.
N
My In Progress
Lists all projects that are currently in progress where you are listed as either the COI Staff Owner or as an additional COI Staff Owner. This includes projects where action is required by the discloser/discloser's proxy or the department reviewer.
O
My Completed
Managed Certification for which you have completed your review and All Reviewed Projects
P
Office
Lists all In Progress projects for your office.
Q
Manage Sponsors
Click Update next to the sponsor to update the ICOI flag that is stored in

M-Inform.

R
Manage Outside Entities
Click Update next to the Outside Entity to update the information stored in

M-Inform.