Overview
PI & Project Team members with Edit rights can use Update Research Activity to update answers to compliance questions in PAF Section 5. Research Activity, and to associate an approved HUM, PRO, and/or IBCA after the PAF has been routed but before the PAF has been awarded.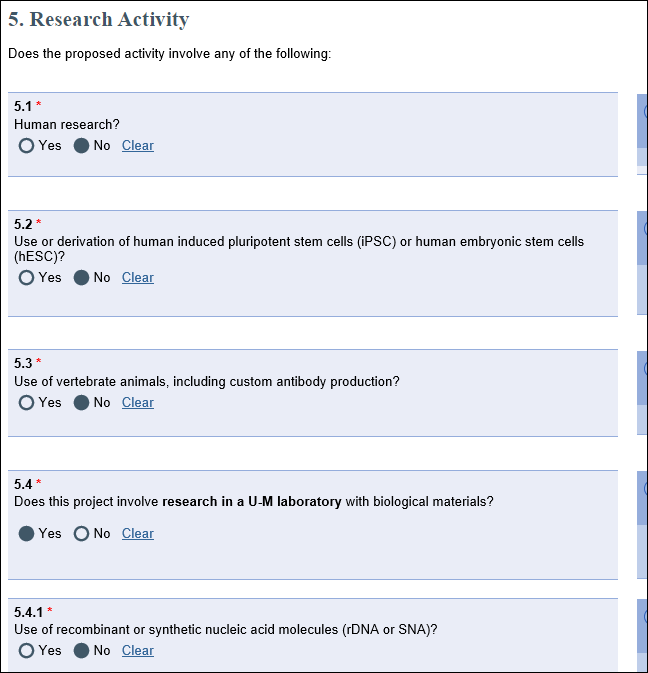 This activity is available on PAFs in the following states when the PAF is not editable for changes, up until the point that ORSP creates an Award:
Expedited Submission
Negotiation in Progress
ORSP Action in Progress
ORSP Administrative Review
ORSP Approved
ORSP Approved - Awaiting Final Proposal
Post-Submission ORSP Admin Review
Post-Submission ORSP Approved
Post Submission PR Review
Post-Submission Signing Officer Review
Post-Submission Unit Review, Processing Award
Project Representative Review, Proposal Finalized
Signing Officer Review
Submitted to Sponsor and Unit Review
Navigation
Role: PI & Project Team > PAF workspace
Step-by-Step Process
Click the Update Research Activity activity on the PAF workspace.
Update/complete answers to the questions.


Notes

The questions that display within the activity depend on answers provided in PAF Section 5: Research Activity.
If you need to change an answer to a question that is not displayed, contact ORSP to have the PAF unlocked for editing.
If 5.1 question(s) are answered "Yes", then complete the additional questions that display.
If any of the 5.4 sub-questions are answered "Yes", then complete the additional questions that display and go to steps 3-7. Otherwise, skip to step 8.

If applicable, click to Add an approved IBCA or check the box to indicate that an IBCA is Not yet submitted/Pending.

Enter the IBC ID, PI Last Name, and/or PI Uniqname.
Click Find.
Select the radio button of the applicable IBC application.
Click OK or OK and Add Another.
Enter Comments.

Click OK to save changes.
The activity is recorded under Activity History in the PAF workspace. If ORSP is processing the Award, they will be notified of these updates.
Last Updated:
Monday, September 14, 2020