Overview
The ATR Staff Home workspace is the home page for animal treatment records for individuals who have the ATR Staff role. The ATR Staff is comprised of roles for Husbandry, Veterinary (includes Vet Tech, Vet Resident, and Vet Faculty), and Viewer. The tabs that display for you depend on your assigned role. You may need to scroll right to see all the fields.
From the Home workspace you can view and access Animal Treatment Records (ATRs) and perform actions on ATR records. See My Activities below for details.
Navigation
My Home > My Roles: ATR Staff
ATR Staff Home Workspace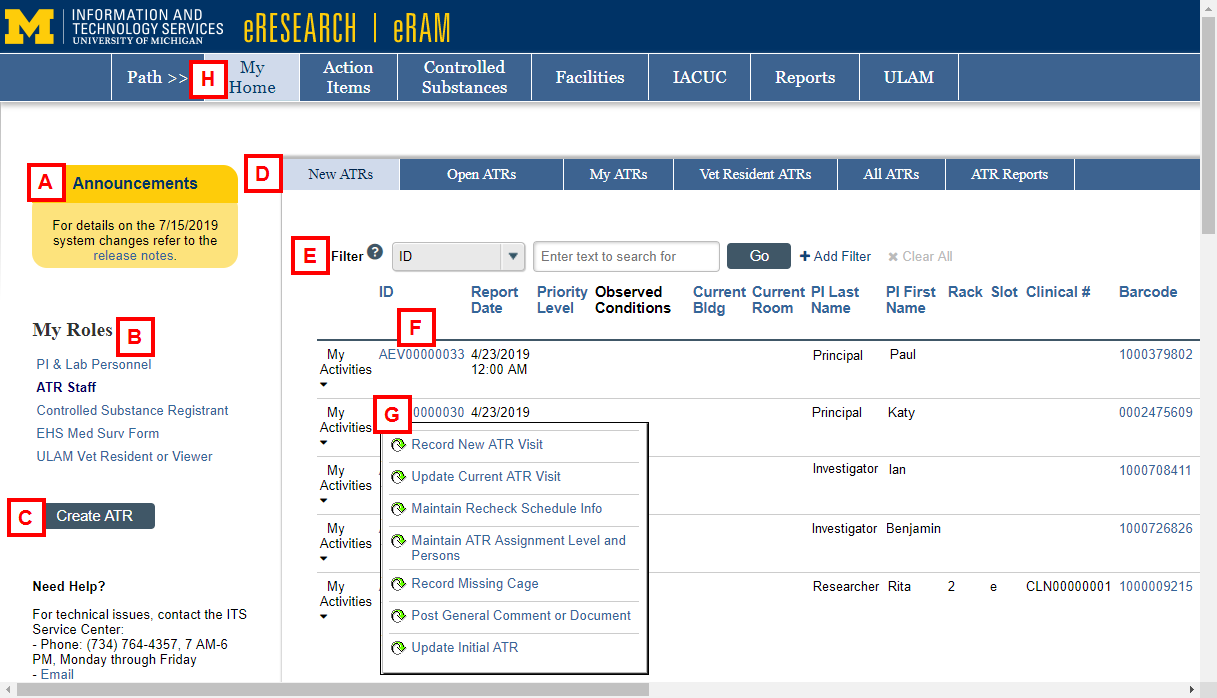 Letter
Section
A
Announcements - Recent news, functionality change, release notes, and other general information is posted in this section.
B
My Roles – Your available eRAM roles. If multiple roles are listed, click a role to select it. The Home workspace changes based on the role. The active role displays in bold.
C
Create ATR – Click the button to create a new Animal Treatment Report. Used primarily by Husbandry users.
D
Tabs – Tabs organize your Home workspace into the following pages. The tabs that display depend on your assigned role. Husbandry roles only see the New ATRs tab; Veterinary and Viewer roles can see all tabs:

New ATRs – Displays new ATRs with Husbandry required action
Open ATRs – Displays open and assigned ATRs
My ATRs – Displays only the ATRs assigned to you
Vet Resident ATRs - Displays the ATRs assigned to Vet Residents
All ATRs - Displays all ATRs regardless of state
ATR Reports - Displays reports for All ATR History, All ATRs, and ATR Uploaded Documents. See ATR Reports below for details.

E

Filter by – Use these options to search for ATR records.

Tips:

Select a value such as Current Bldg, Current Room, or Clinical Number from the drop-down list.
Use a percent sign as a wildcard (%).
Click Add Filter to filter by multiple criteria.
Click a column heading to sort by that field in descending order. Click again to sort by ascending order.

F
ID – Click the ID link to open the ATR workspace.
G
My Activities – Click to select an action without opening the ATR workspace. Activities that display depend on your role and the state of the ATR:
H
My Home – Click to return to the first page of your Home workspace.
ATR Reports

| Letter | Section |
| --- | --- |
| I | ATR Reports - This tab displays Custom Search Reports for All ATR History, All ATRs, and ATR Uploaded Documents. Click the report Name or right arrow to open and view the results. |