Overview
Access and permissions to the Service Request System are determined by a unit's Department ID Manager or Proxy. Department ID Managers are maintained by the Shared Services Center.
Important: Avoid assigning multiple roles to a person and select only the highest level role the person needs.
Department ID Manager
Proxy
Orderer
Reporter
All of MCommunity
Manage Access & Permissions

X

X
for Orderer and
Reporter roles

Manage Available Chartfields

X

X

Request Chartfield Changes

X

X

X

X

Request Services

X

X

X

Save Orders for Later

X

X

X

View Order Status and History

X

X

X

Run Reports

X

X

X

Add/Modify MiStorage

X
Manage User Access
Add or Change Access
Select Manage User Access from the Permissions & Billing drop-down list.
Enter the uniqname of the person to change access for and click ​Search.


Note:

The results show all department IDs and current role permitted to the uniqname entered.
Check the box(es) under Orderer or Reporter next to the Department ID(s).


Note:

Only Department ID Managers can check and uncheck the Proxy boxes.
Department IDs are updated based on a nightly feed from U-M Financial Operations.

Click Save Changes.
Remove Access
An individual's access is automatically inactivated when they lose all active U-M affiliations.
If department IDs are not removed, they will become available if the individual regains access to the SRS.
Department ID Managers and Proxies should remove the department IDs from individuals that leave the department.
An individual's current access level to a department is indicated by a check in the box underneath the Role.
Uncheck the box(es) under the Role(s) that you would like to remove.


Tip:

To quickly remove all access, check the Select All box(es) and then uncheck them.
Click Save Changes.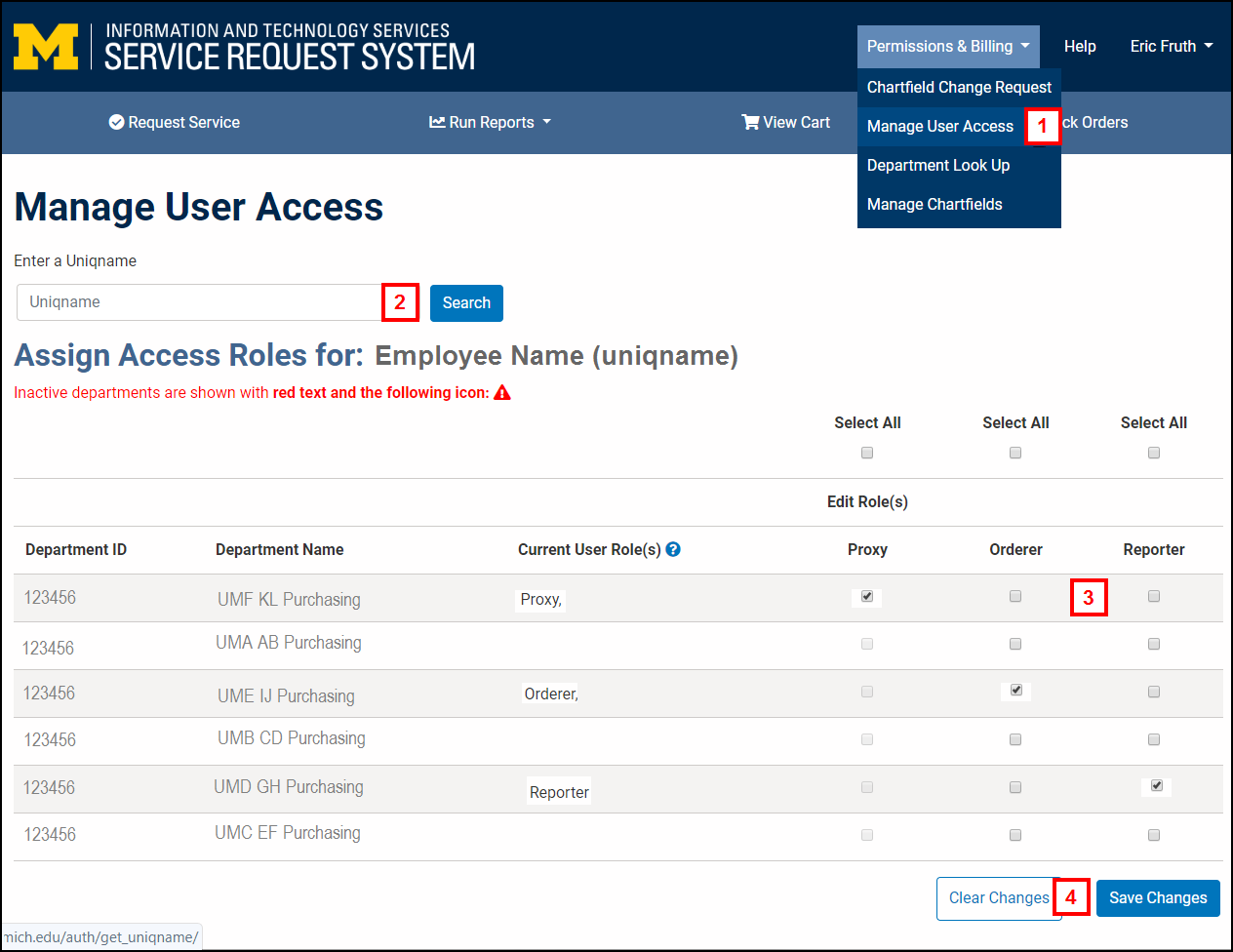 Manage Chartfields
Select Manage Chartfields from the Permissions & Billing drop-down list.
Select a department and click Go.
Click Edit to change the Chartfield's Associated Name.


Note:

See screenshot below.
Click Remove to remove the Chartfield from the list.


Note:

See screenshot below.
Click Add a Chartfield to List to make a new Chartfield available for use.


Note:

See screenshot below.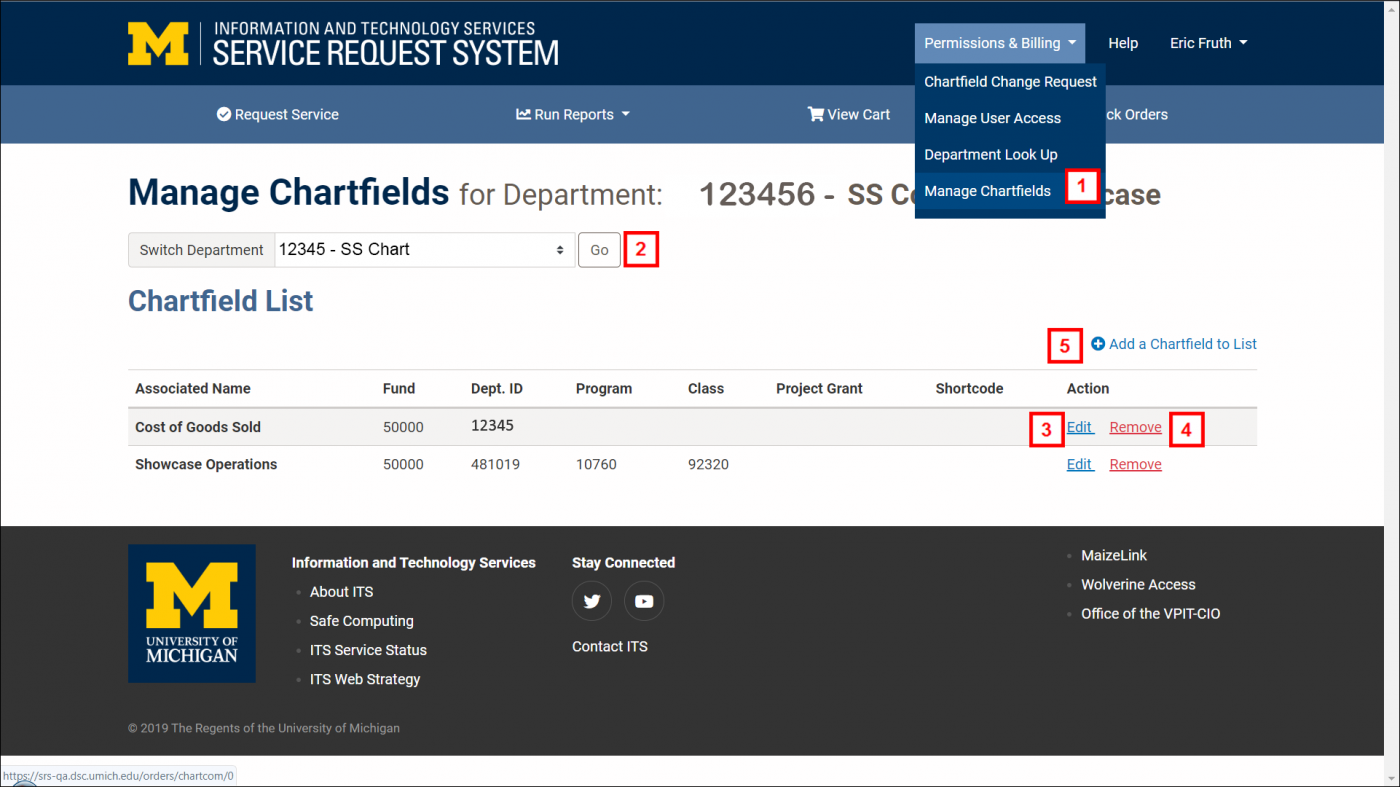 Edit Chartfield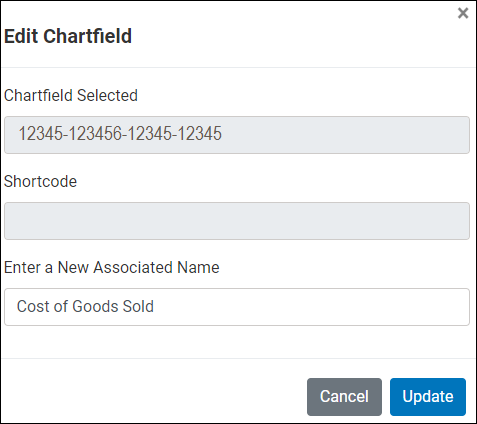 Remove Chartfield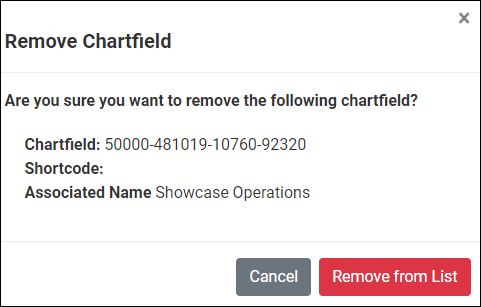 Add Chartfield to List