Overview
When scheduling a Zoom meeting within Canvas, it is possible to add the meeting to your Google Calendar. The meeting should be added from the Zoom app within the Canvas course for which you are scheduling the meeting and not from the Zoom profile in your browser. This document provides instructions for adding a Zoom meeting to your Google Calendar from your Canvas course.
Note: You may be taken to your Zoom account during this process. It is necessary to navigate back to the Zoom page within the same Canvas account.
Click Zoom in your Canvas course.
Click Schedule a New Meeting.

Enter the applicable details, such as topic, date, and time in your meeting invite and click Save.
Click Add to Google Calendar.
​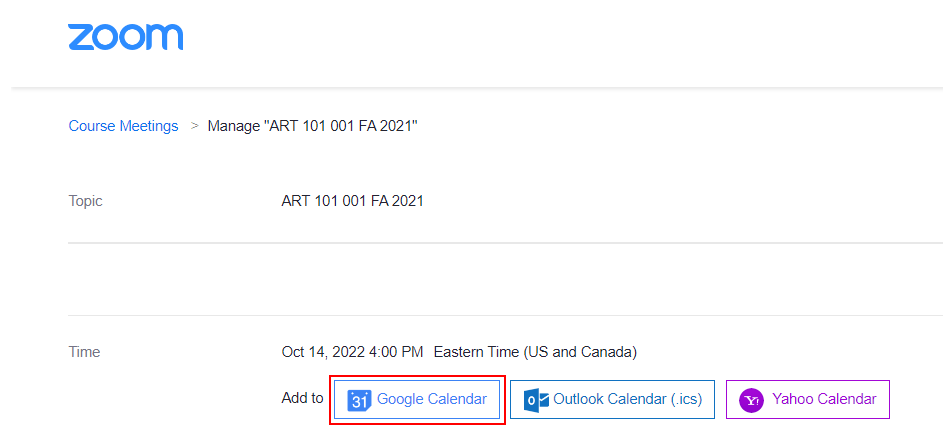 Note: If you are not signed in to Zoom, you will be presented with the following error: "Access restricted, no privilege to do this action." Click Sign In, and you will be taken to your Zoom account. Return to your Zoom page within Canvas and repeat step 4 to add this Zoom meeting to your Google Calendar.
Your Google Calendar will open with the Zoom meeting event details. Click Save to add it to your calendar.
Note: If you have more than one Google account, you may have to select the applicable account. When in Chrome, if you receive a "Could not find the requested event" error, you will need to confirm you are in the right calendar. Sometimes this message appears even after your meeting is saved to your calendar. If it is not, try adding it from the Zoom page in Canvas again.