Please check the following requirements/settings on your computer if you are experiencing issues using Imaging/WebNow/Perceptive Content. If you are not an administrator on your computer, you will need to work with your desktop support (local IT) to assist with these requirements/settings.
Java requirements
Have 1.8.0_144 or higher is required
To check your Java version:

Go to Programs > All Programs > Java > Configure Java (or just search for Java Configuration)
On the Java tab, click View... to see the versions of Java that are installed on your computer


If you don't have the latest version, uninstall Java and then download and install the latest version.
Web Browser requirements
Supported web browsers:
Non-supported browsers:
Chrome
Microsoft Edge
Firefox
Note: Windows 10 users may have Microsoft Edge Installed. Please note this is an unsupported browser. The icon looks very similar to Internet Explorer so please double check you are using Internet Explorer (IE) if on a Windows 10 computer.
Internet Explorer Icon:

Microsoft Edge Icon:

Internet Explorer Settings
To get to IE Settings, click on the Gear icon in the upper right of the browser window. Then click on Internet Options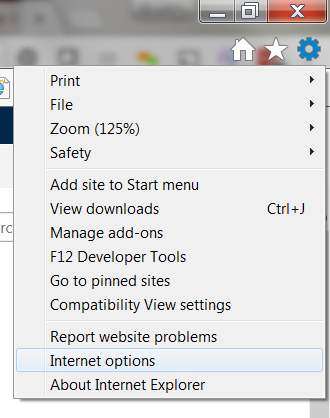 Disable Pop-up Blocker
Click on the Privacy tab and make sure the checkbox next to "Turn on Pop-up Blocker" is not selected. If it is selected, click to un-select and then click Apply.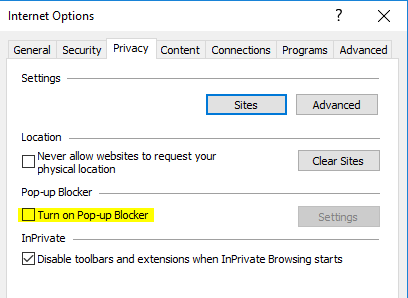 Check Trusted Sites
Click on the Security tab > Trusted Sites > Sites; scroll through the list of sites and make sure either https://imaging.umich.edu/webnow or imaging.umich.edu is listed. If either are not listed, type in imaging.umich.edu in the "Add this website to the zone" box and click Add.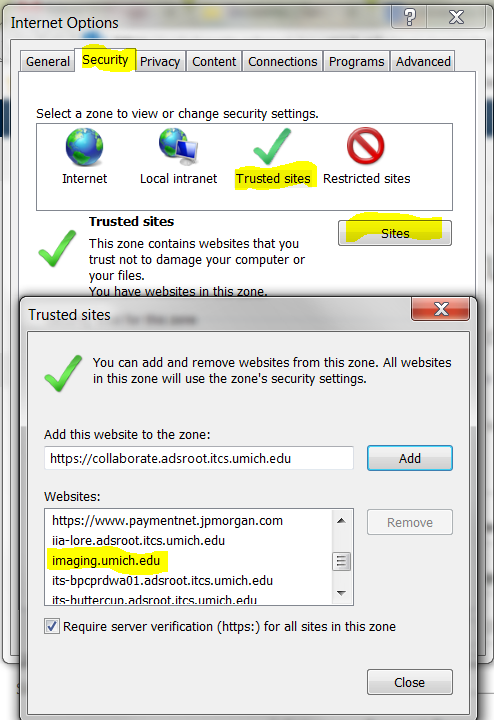 Last Updated:
Thursday, November 9, 2017