Overview
U-M welcomes external collaborators! One of the best features of having a U-M Box account is the ability to invite anyone to collaborate. They don't have to be on campus or even have an existing Box account of their own. Use the following practices to get the best experience for collaborating with those outside of U-M.
For the External Collaborator
Get a Box account and share your account information with your U-M organizer.
You are ahead of the game if you already have a Box account.
If you do not have a Box account, get one for free.
If you are using a personal Box Lite account you may need to click "Not a part of University of Michigan?" before logging in.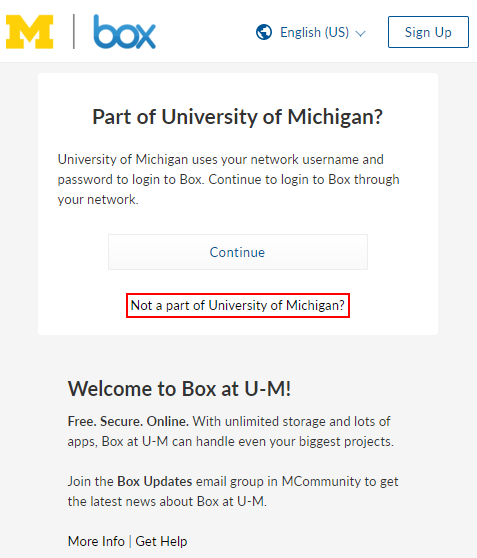 When you receive an invitation to collaborate, follow the link in the email to access the shared folder.
Your invitation to collaborate will come from Box.

If your invitation to collaborate was sent to an email address affiliated with your existing Box account, you will find the shared folder in that account.
If the invitation was sent to an email address NOT affiliated with an existing Box account, you will be prompted to create one. Only create a new Box account if you do not have an existing account. Otherwise, ask the U-M organizer to re-send the invitation to the email address affiliated with your existing Box account.

The color of the shared folder will be gray and the Enterprise Owner will be the University of Michigan.
Work in Box.
Working in a U-M Box folder gives you the advantages of our enterprise. For example:
The content in a shared folder impacts the quota of the folder owner only, not collaborators' quotas.
Other Box limits, such as maximum file size, are dictated by the rules of the folder owner's Box account. For example, if someone from U-M invites a user of a free personal Box account into a collaboration folder, the maximum file size for all content uploaded to that folder will be 15 GB. If the free account holder owned the folder, the maximum file size would be 250 MB, the limit for free accounts.
For U-M Collaborators Inviting non-U-M Collaborators
Tip:
For the easiest access, ask your collaborators to set up their Box account before you invite them. Send your collaborators a link to this document so that they know what to expect and how to work with your U-M Box content.
Working With Collaborators Outside of U-M
Once you are collaborating in Box, working together is no different from working with people at U-M.
Folders
Collaboration in U-M Box can be done at the file or folder level.
When inviting external users to collaborate on a folder, use the email address your collaborators used to set up their Box accounts.
Sharing the People in your company links with external users:

All shared link access settings allow collaborators in the folder access. Therefore, if you create a shared link accessible by People in your company, your external collaborators will have access via this link, even though they are not U-M Box users.
If an external user is not a collaborator on the folder, they will not be able to access the content.
Sensitive Data
For information regarding sensitive data, see:
Know the differences between the three folder icons: Personal (manila), Collaborated (blue), and External Collaborated (gray).
Important:
Do
not
store sensitive data in folders outside of U-M Box unless you have verified the account owner's security assurances.