Overview
Starting in fall 2017, applications on Windows computers at Campus Computing Sites began being streamed to computers using AppsAnywhere, an app store-like portal. Instead of being installed on Campus Computing Sites computers, most applications will be available on AppsAnywhere and launch from a web browser. The AppsAnywhere app store is also available on personal devices using Virtual Sites.
Connect to AppsAnywhere
Connecting to AppsAnywhere from a Campus Computing Site computer or using Virtual Sites is as easy as logging in. The AppsAnywhere software portal will automatically launch in a Chrome browser, allowing you access to the software available to you. You can also launch AppsAnywhere using the desktop shortcut.
Setup Cloud Storage
The first time you access an application using AppsAnywhere, you will be prompted to configure your cloud storage using the Kumo app. Once this is configured to grant access to U-M Box and/or U-M Google Drive, you will be able to choose between those locations to store your files. These locations are then available to you when you are using AppsAnywhere. Visit the Kumo support page for additional details on how to authorize your cloud storage.
NoteThe one-time setup prompt will continue to appear until you've setup cloud storage.
Using AppsAnywhere
AppsAnywhere creates an app store-like experience where you can access the software available for your use. The AppsAnywhere interface is designed to be easy to use and works like many other browsers.
Favorite apps you use frequently by clicking the star in the upper right corner. You can then click the Favorites tab at the top of the page to only see those apps.
Change the way your app store looks by changing the view filter to display standard view, large view or list view.
Use the Search Apps box in the upper right corner to quickly search for the software you need to use instead of scrolling through the list.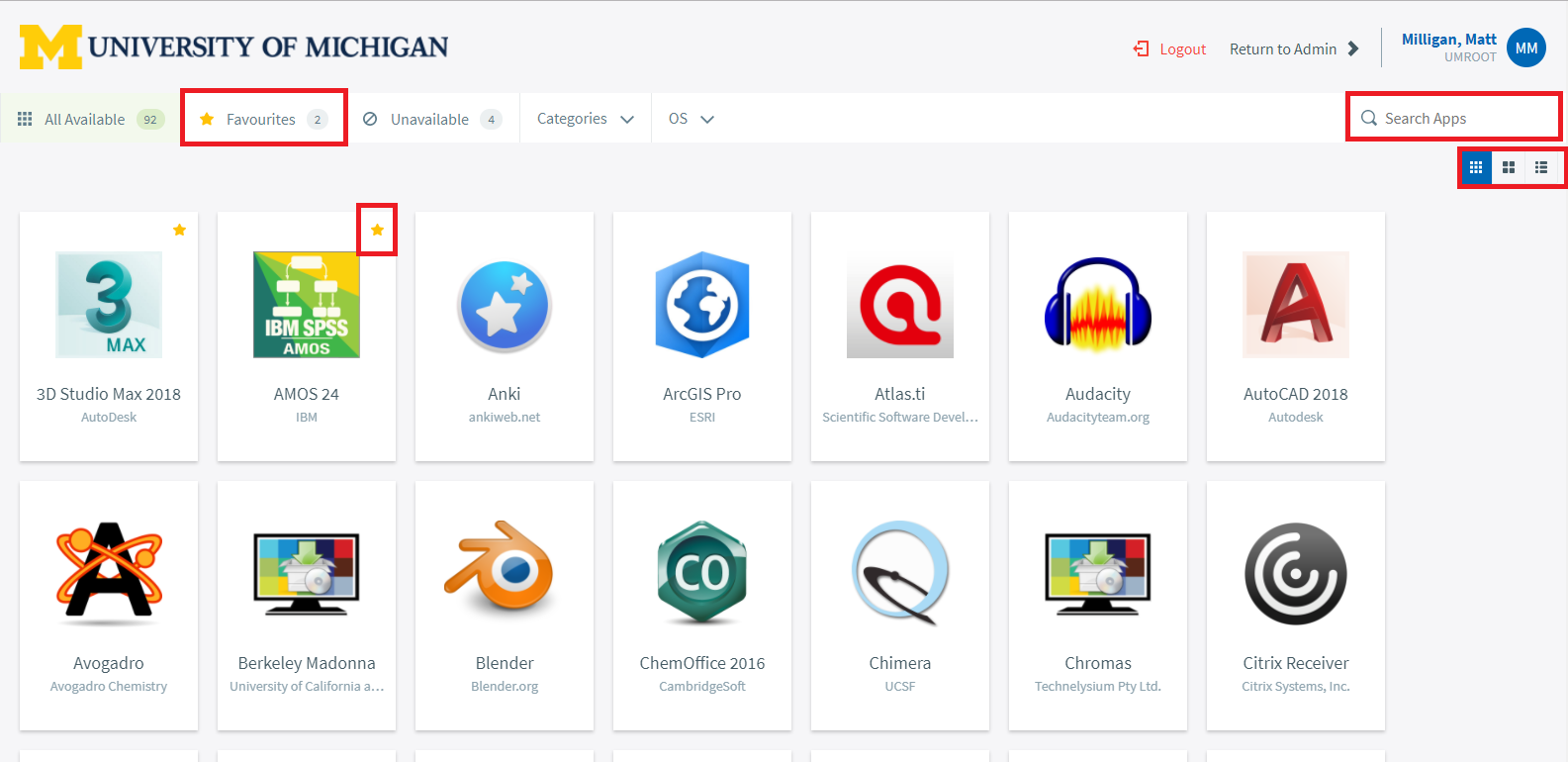 Launch an App
Using AppsAnywhere makes accessing your software as easy as clicking the Launch button.
AppsAnywhere uses a technology called Cloudpaging to download and stream your software. The Cloudpaging window will open, allowing you to view the status of the software. You may ignore or close this window if desired.
Once downloaded, the software will launch automatically.
If there are additional software titles associated with this main title, you can find them in the Start Menu.
Last Updated:
Tuesday, October 24, 2017