Overview
This document describes how to use PuTTY to copy or transfer files from one computer to another over the Internet. WinSCP uses sftp (secure file transfer protocol). PuTTY is for use with Windows computers.
Downloading and Installing PuTTY
On personal computers and unmanaged university computers
Members of the U-M community can download PuTTY.
If you use Microsoft Edge, you may (depending on our website's reputation) have to click through a number of Microsoft SmartScreen hoops in order to download a usable copy of the installer.
Go to your Downloads folder and double-click the UM-PuTTY.exe file (or you can open it using your web browser, if your web browser offers that option).
You will get a User Account Control dialog box. Click "Yes".
On MiWorkspace and managed university computers
Go to the Software Center. Learn more about using the software center on MiWorkspace computers.
From the Software Center window, search for PuTTY.
Download PuTTY. PuTTY will download to your desktop.
Follow the instructions in the installer.
Connecting to AFS and Other U-M Remote Servers
This version of PuTTY is preconfigured for commonly accessed SSH servers at U-M.
IMPORTANT! PuTTY allows you to run programs on a remote computer. If you want to transfer files instead, use WinSCP. See Using WinSCP to Transfer Files With SFTP [Windows]) for details.
1. Go to the Windows Start Menu.
2. Click on PuTTY. Note: If the folder opens click on the Putty application not the entire folder, or nothing will download.
3. You will see a PuTTY Configuration window: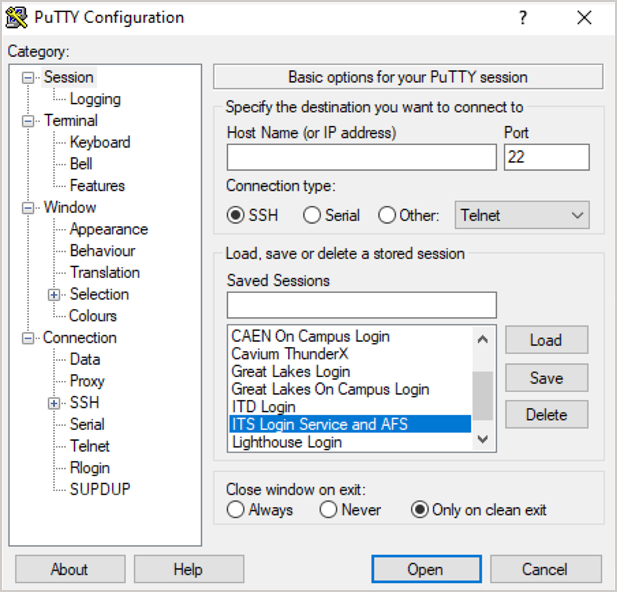 Note: You will need to scroll down to see the ITS Login Service and AFS option.
4. Connect to the remote server where you want to access files, for example the ITS Login Service in order to access files in AFS:
a. U-M PuTTY: Double-click ITS Login Service and AFS in the list of Saved Sessions. Note: You will need to scroll down in the list to see this.
b. Other versions of PuTTY:
Fill in the following information:
i. Host Name: login.itd.umich.edu
ii. Port: 22
iii. Connection type: SSH
iv. Then click the "Open" button.
Note: When you first attempt to connect to a new server, you'll get a warning message window. Click Yes to continue.
5. At the login as: prompt, type your uniqname and press the Return key. At the password prompt (as below), type your UMICH Kerberos password and press the Return key.
6. You will be connected to the ITS Login Service, and will see a prompt like the following: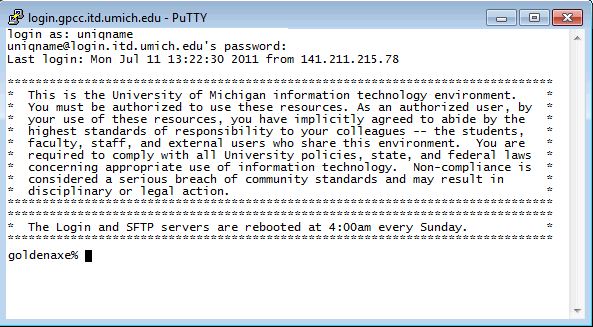 Disconnecting from a Remote Computer
Log out or exit from the remote server to which you connected. You can usually do this by typing exit or logout then pressing the ENTER key. You should always exit or logout before closing the window on your session. When you've done this, your session with the remote computer is terminated and the PuTTY window will close.
Additional Resources
Visit ITS Information System to obtain ITS documentation and other resources.
Last Updated:
Wednesday, December 22, 2021