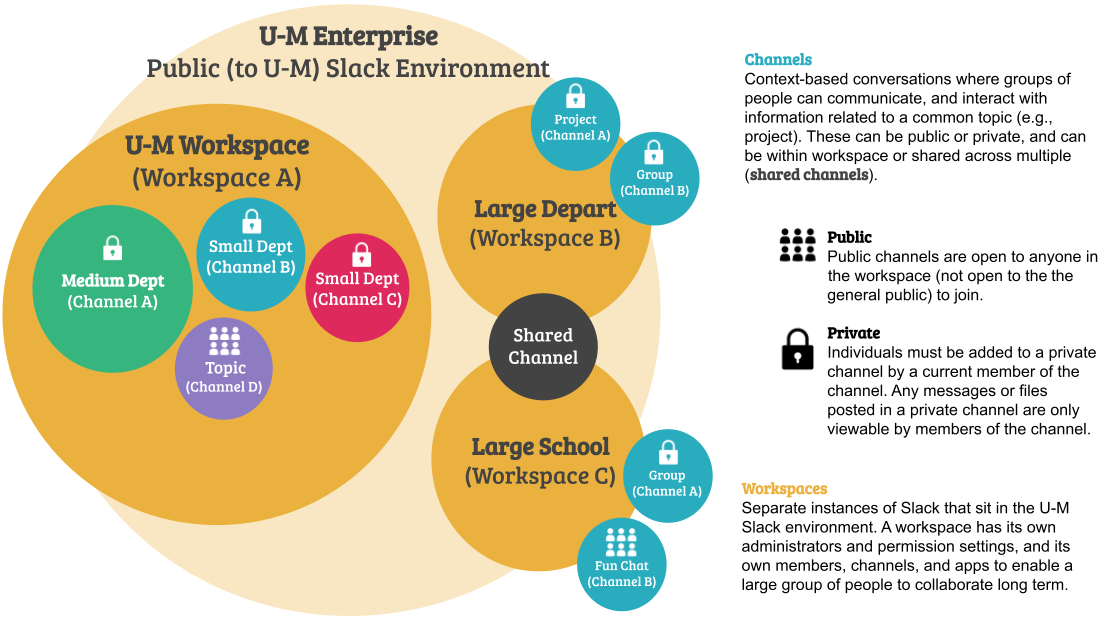 Important
: You must have created a
U-M
Slack account
at least 24 hours
before attempting to create a U-M Slack workspace. Refer to
Getting Started
to create your U-M Slack account.
There are three options for creating your U-M Slack workspace: via MCommunity group, Canvas course, or standalone. The option you choose will depend on how you want to manage membership in the workspace. Refer to How to Use the U-M Slack Workspace Creation Tool for step-by-step instructions on each option below.
Option 1: MCommunity Group Workspace
Membership is synced to one existing MCommunity group of which you are an owner.
Multiple existing MCommunity groups can be added as subgroups to the parent MCommunity group that owns the Slack workspace. All eligible members of each MCommunity subgroup are added to your workspace.
Only individuals eligible for

U-M

Slack will be synced to the workspace.
You may still add members and guests directly in Slack, but those individuals will not be synced to the MCommunity group and will need to be manually removed when no longer needed.
Option 2: Ann Arbor Canvas Course(s) Workspace
Membership is synced to one or more official Ann Arbor Canvas courses of which you have a Teacher role. (You cannot create a workspace for an unofficial course or course from another term.)
If you want to sync the workspace to a Canvas course that you are not a Teacher in, you can:

Ask someone who has a Teacher role to create the new workspace.
Ask someone who has a Teacher role to provide you with a Teacher role (if appropriate) for as long as it takes to create the workspace. They can then demote you back to your regular role. (For example, if there are three sections of the same course, each with a different instructor, and the instructional team wants one Slack workspace for all three sections, select one instructor to create the workspace and have all instructors add that person as a Teacher to their section. The instructor can then create the workspace and, afterward, be removed.)

Everyone in the Canvas course will automatically be added to the workspace. (You do not need to add students manually.)
Anyone removed from the Canvas course (such as a student who drops the course) will automatically be removed from the workspace. (You do not need to remove students manually.)
All Canvas course roles are synced as long as the individual is eligible for

U-M

Slack.
Course workspaces are never deleted. The U-M Slack team is developing a tool that will allow faculty and instructors to delete their course workspaces if desired.
Support for Dearborn and Flint is on the roadmap, but no estimated time frame can be provided at this time.
Option 3: Standalone Workspace
You will be responsible for adding and removing individual members directly in U-M Slack.
Members must have already created their

U-M

Slack account in order to be added.
You cannot add MCommunity groups as members. All members must be added as individuals.
Slack Organizational Model
U-M Enterprise Public (to U-M) Slack Environment

U-M Workspace (Workspace A)

Medium Department (Channel A)
Small Department (Channel B)
Small Department (Channel C)
Topic (Channel D)

Large Department (Workspace B)

Project (Channel A)
Group (Channel B)

Large School (Workspace C)

Group (Channel A)
Fun Chat (Channel B)
Shared Channel with Large Department (Workspace B)
Channels
Context-based conversations where groups of people can communicate and interact with information related to a common topic (e.g., project). These can be public or private and can be within workspace or shared across multiple (shared channels).
Public
Public channels are open to anyone in the workspaces (not open to the general public) to join.
Private
Individuals must be added to a private channel by a current member of the channel. Any messages or files posted in a private channel are only viewable by members of the channel.
Workspaces
Separate instances of Slack that sit in the U-M Slack environment. A workspace has its own administrators and permission settings and its own members, channels, and apps to enable a large group of people to collaborate long term.