Overview
This page provides answers to frequently asked questions regarding the U-M Google Chat service that has replaced classic Google Hangouts in our domain.
Frequently Asked Questions
Can I go back to classic Hangouts?
After July 15, 2020, you can still use classic Hangouts via the web until it is retired at the end of 2020. However, ITS strongly recommends the use of Google Chat. It is best suited for team-based work across the entire university and is the future for chat at Google.
There is no option to revert back to the previous classic Hangouts experience in Gmail. According to Google, you will be able to search for old one-to-one and group messages in Gmail and view all old one-to-one and group messages at hangouts.google.com.
Is there a desktop application? If so, how do I download it?
Yes, there are two different desktop applications: 1) Google Chat desktop app, and 2) Google Chat Progressive Web App (PWA).
Note: The PWA option has not worked for some Windows users, but does for most. We are currently investigating this option further and will communicate out at a later date.
What browsers are supported for use with Chat?
All browsers should be able to run Google Chat except Internet Explorer.
Can I still make phone/voice calls from Google Chat?
Previously, classic Google Hangouts allowed you to make phone/voice calls to other users directly in Gmail. Unfortunately, this is no longer a feature in Google Chat.
Google Meet is the preferred method to call someone now. In Google Meet, you can enter an individual's phone number to add them to the call, but this does not function in the same way as classic Hangouts calls did (where you did not need to know the individual's phone number to call nor have to use a different service outside of Hangouts).
However, you should be able to continue to make phone calls through classic Google Hangouts at hangouts.google.com until the end of 2020.
What is the difference between Google Chat group messages and rooms?
Google Chat group messages are for smaller, private conversations. Google Chat rooms are for larger, team-based work. Group messages and rooms have different features and capabilities. For example, you can invite MCommunity groups to rooms, but you cannot invite MCommunity groups to group messages. For more information and help determining which option is best for your needs, see Google's comparison chart.
Why are there two different views for my chat rooms in Gmail? How do I get back to my Inbox?
There are two different views for Google Chat rooms. When you click on the room in your list under "Rooms", it automatically pops out into the Inbox view. To return back to your Inbox, click the back arrow next to the name of the room. If you would like to have the room open in a "pop-up" view, similar to classic Hangouts Chat and messages under "Chat", click the down arrow next to the name of the room when you hover over the room in your list.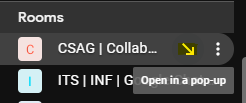 Additional Information
This FAQ is evolving. If there are questions you still have, please see the U-M Google Chat service page and Getting Started With Google Chat, or contact the ITS Service Center.