LinkedIn Learning content (full courses or individual videos) can be integrated into a Blackboard course using the Web Link option which allows for completion of the activity to be logged in the Blackboard gradebook.
Important! If this is your first time logging into LinkedIn Learning, please complete the first-time login instructions before continuing. If you have logged in before, you may skip these steps.
Adding LinkedIn Learning content to a Blackboard course is a two-step process:
Select LinkedIn Learning content and copy SSO URL.
Create a Web Link in your course and paste the SSO URL.
Select LinkedIn Learning Content and Copy SSO URL
Log in to LinkedIn Learning with your uniqname and UMICH (Level-1) password. If prompted to do so, also enter your LinkedIn password.
At the top of the LinkedIn Learning site, click Go To Admin. The LinkedIn Learning Admin site opens, and you can browse or search for courses and videos. If you do not see the "Go To Admin" option, please contact 4-HELP.

Important! Please note that in order to add LinkedIn Learning content to a Blackboard course, you must select the content from the LinkedIn Learning Admin site. The steps described below cannot be completed if you are on the standard LinkedIn Learning site.
To link to a full LinkedIn Learning course, hover over the course tile, click More, and then select Get SSO URL. This will copy the SSO URL to your clipboard.
Alternatively, add a link to an individual video. Open the LinkedIn Learning course, click the three dots next to the desired video in the playlist, and select Get SSO URL.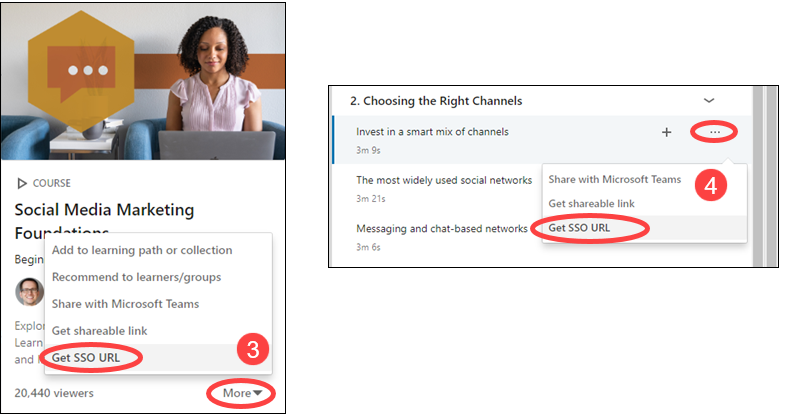 Create Web Link and Paste SSO URL
On the Course Content page of your course, select Web Link under the Build Content menu.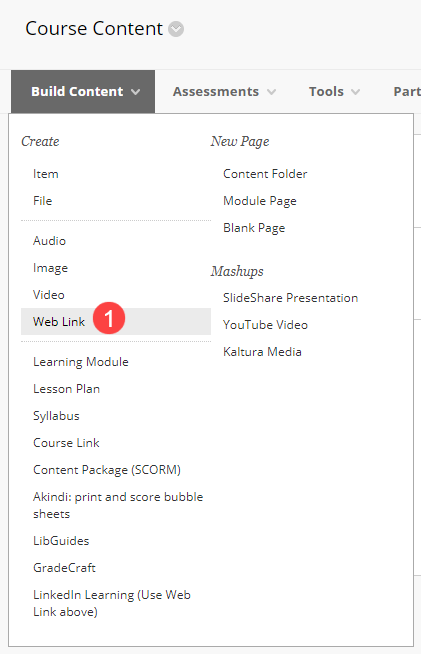 Enter a Name for the web link in the field provided.
Paste the SSO URL you copied to your clipboard in the URL field.
Click the This link is to a Tool Provider checkbox.
If you wish to have completion of the activity logged in the course gradebook, click the Enable Evaluation checkbox.
Edit the remaining fields as desired, and then click Submit.