Overview
With the BlueJeans Meeting Google Calendar add-on, you can easily schedule and join a BlueJeans meeting directly from Google Calendar. Note: Third-party apps may display advertisements, require additional terms of service agreements, have a separate privacy policy, or retain your information. For those reasons, add-ons/apps within the G Suite Marketplace are currently disabled for the University of Michigan domain, with a few exceptions such as this one.
Install the BlueJeans Meeting Add-on
​Important: If you currently use the BlueJeans for Google Calendar Chrome extension, we recommend that you uninstall the extension from your web browser and use the BlueJeans Meeting add-on. The add-on provides the same user experience across all web browsers and the Google Calendar mobile application. For more information on how to uninstall a Chrome extension, visit Google's Help Center.
To install the BlueJeans Meeting add-on:
Go to the G Suite Marketplace and find the "BlueJeans Meeting" add-on: https://gsuite.google.com/u/2/marketplace/app/bluejeans_meeting/204201795079
Click Install.
BlueJeans will ask for permission to access your U-M Google account. Click Continue and then Allow.
After installation, you will need to log out of your U-M Google account and log back in using your U-M credentials.
You should now be able to use the add-on. You may notice the add-on has been added to your Google Calendar right sidebar.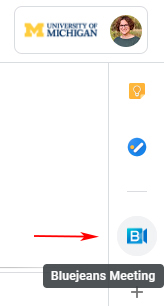 Add Conferencing to a Calendar Event
To add a BlueJeans meeting to a Google Calendar event:
Go to Google Calendar and create an event.
Under the Guests tab, click Add guests and enter the email addresses.
Under the Event Details tab, click Add conferencing and select BlueJeans Meeting.
Click Save.
Click Send to send the invites.
Guests will receive an email with the event information and a link to the video meeting.
Note: If this is your first time adding a BlueJeans meeting to an event, you will be required to log into your U-M BlueJeans account.
After clicking Add conferencing and selecting BlueJeans Meeting, you will receive an error alerting you ("Login required").
Click Log in. This will open a new window.

Enter your UMICH email address and click Next Step. You will be taken to the U-M Weblogin screen where you will enter your

U-M

uniqname and UMICH

(Level-1)

password, and then authenticate with Duo.
Once you have authenticated through

U-M

Weblogin, BlueJeans will ask for access to create and display meetings. Click Allow.
Customize Settings
You may need to update the settings of the BlueJeans Meeting add-on to set your preferred default meeting ID when scheduling a meeting.
From the right corner of your Google Calendar, click the gear icon and select Settings.
From the left sidebar under General, select Add-ons.
Beside "Bluejeans Meeting", click Settings, which will open a new tab.
Under Default Meeting Settings, select the option of One time meeting ID or Personal meeting ID (XXX XXX XXXX). This will determine how all new meetings are scheduled within Google Calendar when using the add-on.
Click Save Changes and close the tab.