Overview
This document is intended for Non-MiWorkspace customers who have already installed CrashPlan on an initial device and wish to install CrashPlan on an additional/personal device.
Important! The University of Michigan Medical Health Information Technology & Services (HITS) also uses CrashPlan for a service called Data Guard. This document and the ITS Service Center do not cover the use of this service. For more information, please contact HITS.
Learn more about Desktop Backup, powered by CrashPlan, including system requirements, features, and rates. View additional CrashPlan resources for non-MiWorkspace customers.
Download and Install Code42 CrashPlan Client
This action requires that you have administrator rights on your computer. If you do not, contact your local IT department.
Navigate to the CrashPlan website on your personal/additional device.
Enter your uniqname (do not include @umich.edu) and UMICH (Level-1) password.
Click Sign In.
Click on App Downloads on the left side banner, and then download the correct app for your Operating System.
Open the downloaded file to start the Code42 Setup Wizard.
Click Next.
Check Accept for the License Agreement and click Next when prompted.
Select Install for Everyone unless you are using a shared computer. If you are using a shared computer, select Only for Me.
Note If Code42 is installed on a shared computer, it only backs up data when the user is logged in.
Click Install.
Click Finish.
Log In to CrashPlan
Launch the Code42 CrashPlan application.
Windows: Click the Start menu, type code42 in the search box, and press Enter.
Mac: In the Dock, open Finder, click Applications, and then click Code42.
Enter your full UMICH email address ([email protected]) in the Username field, and then click Continue.
The Server Address will default to client.us2.crashplan.com.
To sign in using a shared account, enter the shared account name and append @umich.edu to the end.
Sign in to U-M Microsoft Office 365 with your full UMICH email address and UMICH (Level-1) password (or shared account password, if applicable).
Click Sign In, and then complete Duo Two-Factor authentication. Once successfully logged in, close the web browser and return to the Code 42 application, which should already be open.
Client Configuration
After logging in, CrashPlan will ask you if you would like to Add New Device or Replace Existing. Select Add New, and then click Start.
Click Manage Files.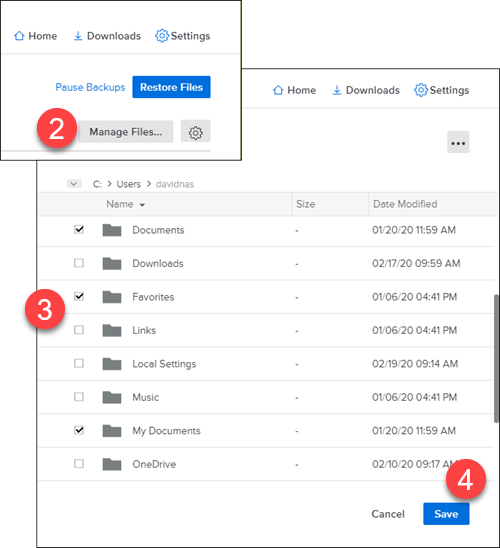 Verify the correct folders are selected for backup, or click the checkboxes to select additional folders/locations you want to back up.
Note It is not necessary to back up the entire hard drive as CrashPlan cannot do full operating system restores. Nor is it necessary to select already backed up locations, such as Box Sync. Rather, select only locations where you regularly save files.
Click Save. Your backup will begin immediately.