Overview
This document provides instructions for restoring previously backed-up files using CrashPlan.
Important! The University of Michigan Medical Health Information Technology & Services (HITS) also uses CrashPlan for a service called Data Guard. This document and the ITS Service Center do not cover the use of this service. For more information, please contact HITS.
Learn more about Desktop Backup, powered by CrashPlan, including system requirements, features, and rates. View additional CrashPlan resources for MiWorkspace and non-MiWorkspace customers.
Restore Files
After the initial backup is complete, you are able to restore previously saved versions of files from the cloud.
Launch the Code42 CrashPlan application.
Login with your full UMICH email ([email protected]) and UMICH (Level-1) password, and then complete Duo Two-Factor authentication.
Click Restore Files and select the device for which you will be restoring data from the dropdown menu. If you have CrashPlan installed on only one computer, a drop-down menu will not display.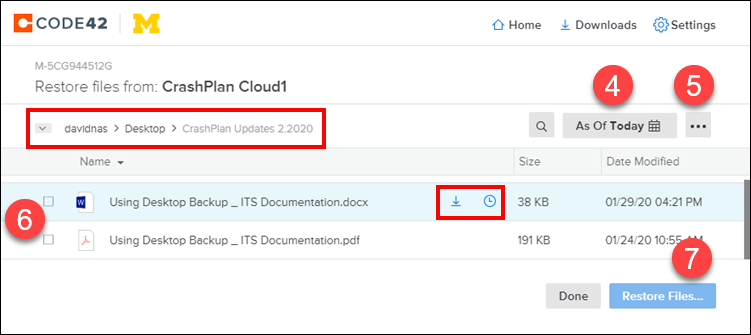 CrashPlan displays the most recent versions by default. If desired, click the As of... calendar icon to select the specific date/time from which to restore items.
If a file does not display in the list, click the ellipses button (three dots) and select Include deleted files or Show hidden files.
Note When hovering over an individual file (not a folder), two additional icons display:
Click the download icon to save a copy of the file to your device. This is a quick way to restore a single file. Continue with step 6 to restore multiple files.
Click the clock icon to view all previously backed-up versions of the file.
Click the checkbox(es) next to the folder(s) or file(s) you want to restore. You can also click on a folder in order to view its contents or click in the breadcrumb trail to navigate back to a previous view.
Click Restore Files.
Click the applicable Restore Files Options dropdown menus to:
select the location where the file(s) will be saved;
choose if a file that already exists in the selected location will be renamed or overwritten;
select the permissions associated with the file(s). Unless you're familiar with permissions, it's recommended to leave this set to Current.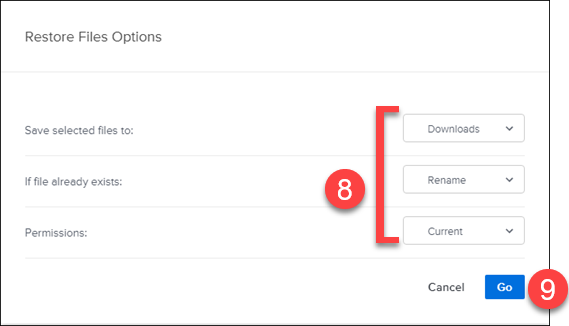 Click Go.
The Download Activity list displays the downloaded file(s). If desired, hover over a file and click the folder icon to show the folder on your device to which the file was saved.