Overview
Use the Fast Find method instead of searching through or filtering All Submissions to find a particular study. Viewing All Submissions creates a processing load on the system that could cause overall system slowness.
Navigation
Role: Core Committee Staff > Home Workspace
Step-by-Step Process
Click Reports.

Click Fast Find.

Click the submission type folder:

​Biosafety/IBC
Human Subjects Studies
Repositories
Note Bookmark this page to avoid extra steps associated with navigating to a particular Fast Find folder.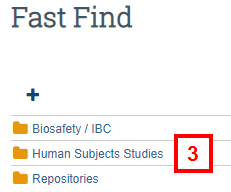 Click the name of the report:

Fast Find for AE/ORIOs​
Fast Find for Amendments
Fast Find for Applications
Fast Find for SCRs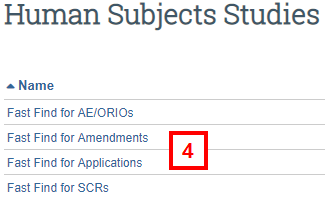 Click Change Parameters.

Enter the ID.


Note

You must enter the exact ID number with prefix and leading zeroes, e.g. HUM00000123. Characters are not case sensitive.

Click OK.
Click the Study ID link.
The Submission Workspace opens in a new tab.