Overview
The Animal Treatment Record (ATR) workspace is the main page for animal treatment records and information. From the ATR workspace you can record a new ATR visit, update a current ATR visit, maintain ATR assignment level (escalate), record a missing cage, resolve an ATR, and complete other necessary activities.
The ATR workspace can be accessed by individuals who have the ATR Staff role of Veterinary, Viewer, or Husbandry (for a limited time in the life cycle).
ATR Workspace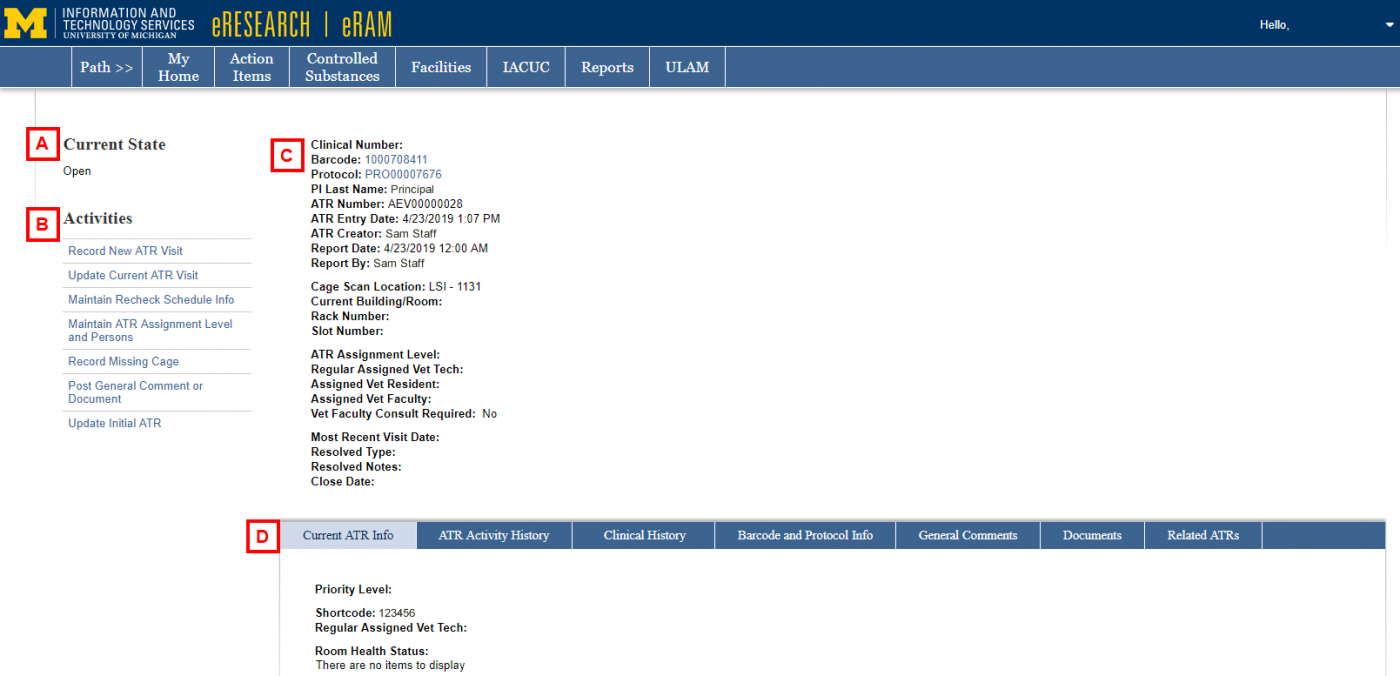 Letter
Section
A
Current State - Status of the ATR.
B
Activities – A list of various activities that can be performed on the ATR. The activities that display depend on the user's ATR eRAM security role and the State of the ATR.
C
Overview and high level details of the ATR to include associated numbers, dates, location, and assignments.
D
Tabs – Tabs organize the ATR workspace into the following pages:

Current ATR Info – Displays the high-level details of the ATR.
ATR Activity History – Displays all actions taken on the record from the point it was created and all changes made to the record. Each new visit creates a history row. Click the activity name to view more detailed information about the activity.
Clinical History – Displays a reverse chronological list of all the ATR visit's data.
Barcode and Protocol Info – Displays protocol info related to the ATR's barcode.
General Comments - Displays any comments entered by ATR staff.
Documents - Displays any documents uploaded by ATR staff.
Related ATRs - Displays any related ATRs, based on Clinical Number.