Overview
For procedures with Human Derived substances, ABSL 2 housing is required unless an exemption is approved for ABSL 1. Exemptions are granted at the individual substance level; see the U-M Guidance for Animals Administered Human-Derived Substances page for further explanation. The Request or Maintain ABSL 2 Exemptions activity can be used to request exemptions for Approved protocols.
Step-by-Step Process
Click Request or Maintain ABSL 2 Exemptions from the approved protocol workspace.
Click Add.


Note

If a substance is already listed, click Update.
Enter or select the Agent.

Enter the Derived Substance and Derived Substance Lot Number.
(Optional) Enter a Derived Substance Note.
Click Choose File to upload a Test Results Document.
Click OK or OK and Add Another.
Click OK.


Notes

The request will be sent.
The details you entered can be viewed on the

ABSL 2

Housing Exemptions tab of the protocol workspace.
Protocol Workspace >
ABSL 2

Housing Exemptions Tab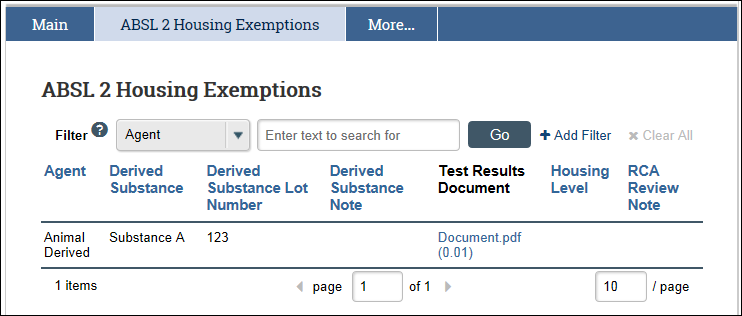 The ABSL 2 Housing Exemptions tab in the associated protocol workspace lists the following information:
Agent
Derived Substance
Derived Substance Lot Number
Derived Substance Note – if a note was entered
Test Results Document – if a document was uploaded
Housing Level – will display after RCA Review
RCA Review Note – will display after RCA Review
Last Updated:
Wednesday, September 4, 2019