Forms Menu (previously Jump To list)
The
Tip It is recommended that you use the Continue button at the bottom-right corner of the smartform to navigate through the application initially, then use the Forms menu to navigate directly to the sections you know you need to complete.
Forms menu persistently displays a list of all sections and pages within an application. It allows you to jump directly to any section or page in the application but does so by ignoring the logic built into the smartforms.
Pages that are not or not yet required for your project appear in italics.
The page that you are currently viewing is in bold and highlighted.
Click on a top-level bold section number, e.g. 01. General Study Information, to expand or collapse the pages within that section in the forms menu.
The entire left navigator menu can be toggled on or off, i.e., closed
or opened with the double-arrow icon.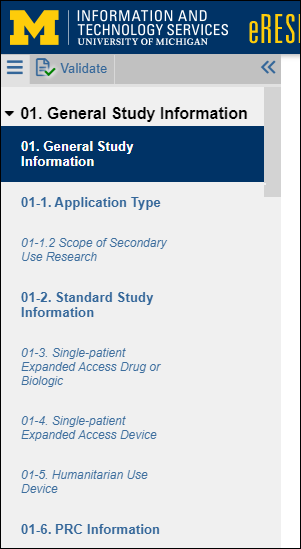 Last Updated:
Wednesday, February 17, 2021