UMVPN
The UMVPN is automatically installed on all MiWorkspace Mac devices and is used to access your home directory and department drives. You can choose from two VPN profiles.
Choose Connect UMVPN (All Traffic) with Duo Push if you are on an unknown or untrusted network, like a coffee shop or airport.
Choose Connect UMVPN (Only U-M Traffic) with Duo Push if you are on a known and trusted network, like your home network.
Sensitive Data Users
MiWorkspace Mac users who work with sensitive data are asked to take the added precaution of always using the Connect UMVPN (All Traffic) with Duo Push profile when using a wireless connection or an off-campus connection of any kind. This provides enhanced network protection for the university's sensitive data. The UMVPN (All Traffic) profile is automatically installed on your device. If you use a MiWorkspace Mac device and store sensitive data and this option is not available on your device, please request it from the ITS Service Center.
First-Time Setup
Before connecting to the UMVPN for the first time, you must first log in via System Preferences and allow VPN status to be shown in your Mac's menu bar. These steps must be completed once for each VPN profile you wish to connect to.
Click the Apple menu and select System Preferences.
Click Network.
Select the desired VPN profile.
Enter your uniqname and UMICH (Leve-1) password in the Account Name and Password fields.
Click the Show VPN status in menu bar checkbox to enable.
Click Connect if you wish to connect to the VPN profile, or click Apply to save your changes but not connect.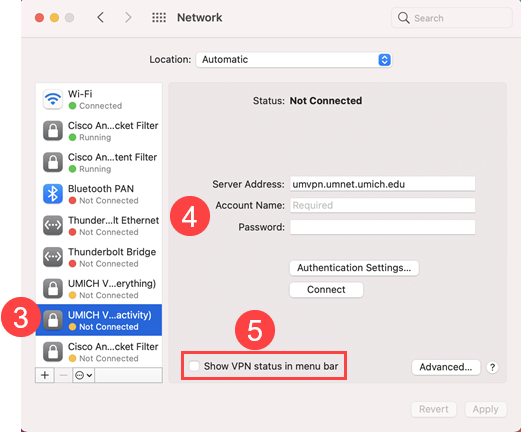 The VPN icon is added to your menu bar (see next section).
Connecting to the UMVPN
Click the VPN icon in the menu bar, and then select the VPN you wish to use. Log in with your uniqname and UMICH (Level-1) password, and complete Duo two-factor authentication if prompted.
Note:
When prompted for Duo, you will automatically receive a push notification to your primary enrolled device. You will not see the Duo prompt to select your authentication method.
If you receive a passcode with a Duo token or yubikey instead of a push notification, you can enter it using the "password,passcode" format.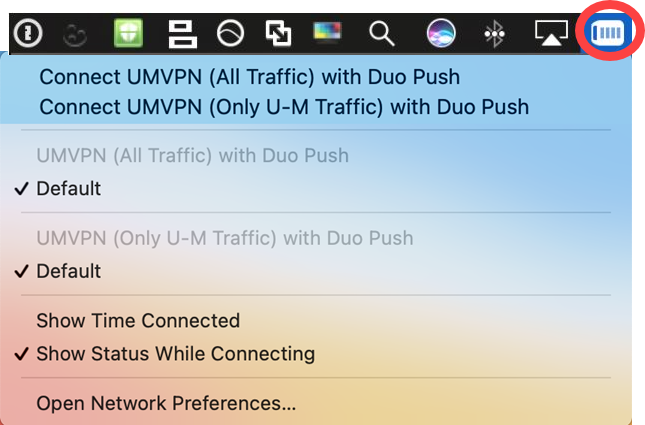 Last Updated:
Monday, September 13, 2021