Overview
When searching for documents, you can use the Quick Search or Search tab to perform your search.
When you use the Quick Search feature, you can search for a document based on its name, drawer, or document property value. When you use the Search feature, you can search for a document based on a composite property or custom property value, a document property, status, or a user.
You can save document searches as private filters.
Search for a Document
Quick Search
Select which field you wish to search on by clicking the dropdown underneath the Quick Search tab.
Enter in the value you want to search on and click Go to perform the search.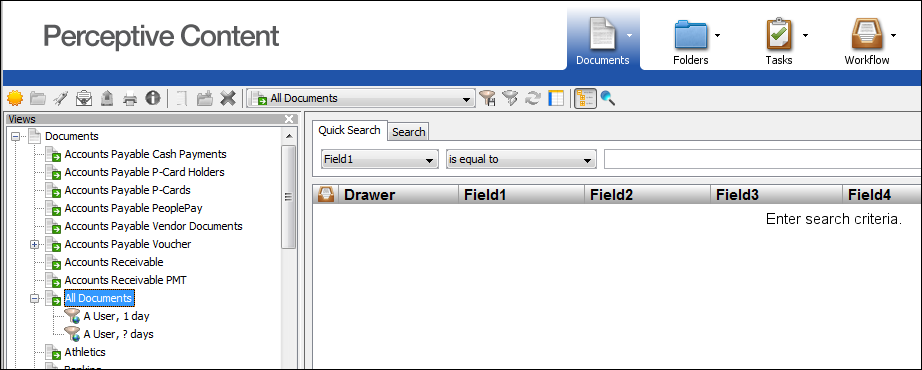 Advanced Search
Click Add on the Search tab.
Select a constraint to use from the Constrain by drop-down list in the Add Conditions dialog box.
Select the type of search to perform from the Type drop-down list.
Select the item field from the Field drop-down list to use in the search.
Select an operator from the Operator drop-down list to use when comparing the field and value.
Enter a value for the search in the Value field.

Note: If you selected Prompted in the Type list, the Message box appears instead of the Value list. Enter instructions indicating what value to enter.

Optional: Repeat the advanced search steps to add another search value, as needed
Click Go.
Adapted from Perceptive Software Online Help