Overview
The MiServer service uses Nagios to monitor your managed servers and sends alerts when problems are detected. As a server administrator, you can reboot or shut down your server as needed, but you must make sure the MiServer staff knows you are working on your server. The best way to do this is by using the Nagios console to schedule downtime for a server.
The Nagios monitoring console is located at: https://nagios.dsc.umich.edu/.
Authenticate with your Uniqname if prompted.
To schedule downtime to silence alerts: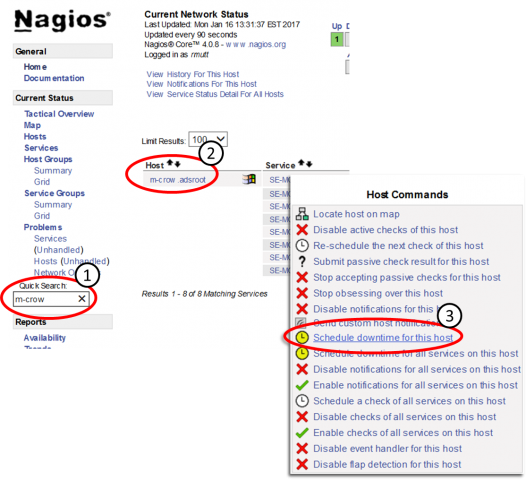 Go to https://nagios.dsc.umich.edu. Use the Quick Search: box in the navigation tools on the left side of the to page to search for your server by it's short name (or by servername.adsroot).
Click on your servername under the Host column. This will bring up the Host Information page for your server. On the left side of the page is a box of Host Commands.
Click on the Schedule downtime for this host command.
Add a comment and adjust the start and end times as necessary. Click Commit.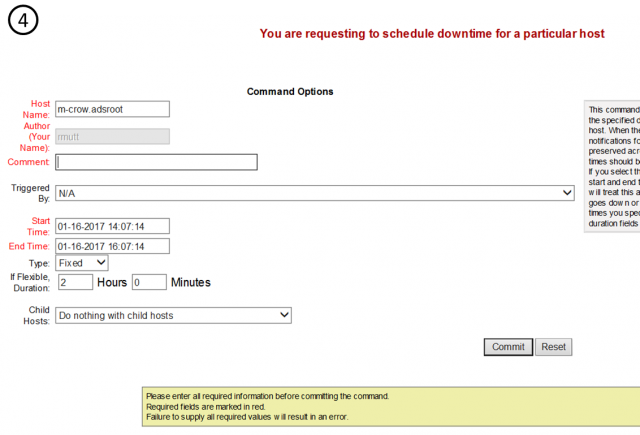 To resume alerting:
To end a scheduled downtime and resume normal alerting:
Use the navigation links on the left side of the Nagios web page to go to Downtime (under the System section).
Find your server in the Scheduled Host Downtime section (located above the Service Downtime section) and click the trashcan icon in the far right column. That period of Scheduled Downtime will be canceled for that host.