Overview
Collaborate in U-M Box using MCommunity groups. Collaborations done using MCommunity groups will automatically update in U-M Box when the MCommunity group is updated. The Members list is viewable to setting in MCommunity is synced to U-M Box.
MCommunity groups created for shared accounts cannot be used. MCommunity groups that can be used have Sent to Google UMICH set to Yes in the Rules Summary.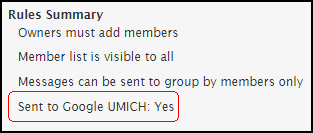 Important: This setting can not be changed.
Known Issue: A small number of MCommunity groups appears twice in the interface when inviting a collaborator. Choose the option that is marked as a Group and does NOT have an email address to make sure that all members are invited. Owners of groups that are duplicated in U-M Box should contact the ITS Service Center for more information.
Add as a Collaborator
In U-M Box, add the MCommunity group as a collaborator of the file or folder. The beginning of the group's email address is the identifier to use in Box (for example, "team-members@umich.edu" would be "team-members"). Select the identifier as it auto-populates in the field.
Important:
Do not add the group's email adress. Use only the identifier.
The group name and aliases "Also Known As" names are not available in U-M Box.
Note: Be specific as only five selections auto-populate at a time.
Access the Folder
Once the group is added as a collaborator of the U-M Box file or folder, it appears in group members' All Files view. This includes group members who have unchecked the setting Automatically accept incoming collaboration invites.
Important:
It is best to send a separate email to notify group members that you have invited them to collaborate.
When using the folder for sensitive data, ensure that all group members are in compliance.
Who Can Access
Only group members with an active institutional role (faculty, staff, student, sponsored account) are members of groups in U-M Box.
External group members and members of subgroups are not synced to U-M Box.
Those with alumni or retiree status in MCommunity are not be synced to U-M Box.
People with no role are not active in U-M Box and are unable to login. If no information is next to their name in MCommunity, they have no active role.
Members Returning to U-M
Refer to Box: Accounts for people who leave U-M.
Adding and Removing Members
Members added to an MCommunity group in U-M Box see the group's collaboration folder(s) in their All Files view.
Members removed from an MCommunity group in U-M Box no longer see the group's collaboration folder(s).
External members and members of subgroups need to be added and managed in U-M Box individually.